---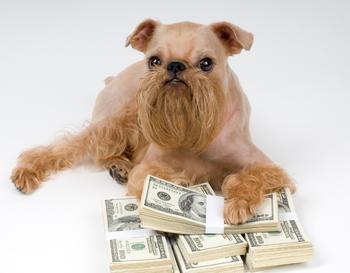 A pet can be expensive, especially around this time of year when they want the latest Halloween costume. Oh, your pet doesn't really want to be a lobster this year? Probably not. Most pets hate having to dress up and be the life of the party again. So put that money away for Bella when she really might need it.
Here are some ideas on how you can save and create a fund for your pet so if an emergency strikes or if that yearly exam pops up and you realize you have to fix your car also at the same time you can be prepared.
Let's start with the vet
Vets aren't cheap but while cost is a big concern, selecting a veterinarian involves more than just price-shopping. There are many things to think about, including office hours, how the veterinarian and staff treat you and your pet, and what type of payment options and plans they offer. Sometimes the bigger corporate vets aren't as flexible with payments.
When considering cost, be sure you have all the facts. While some veterinary medical services -- the subscription-type services that charge a fixed fee that supposedly covers just about everything -- may be offered at very low rates, remember that they also may not include all the services your pet may need.
Make sure you compare "apples to apples," so you know that the cost estimates you're getting are for the same services.
Preventive care
It may seem like a big headache to have to go get flea medicine or have your pet's teeth checked, but it will cost you a lot more in the long run if you have to treat flea infestation or if your animal's teeth start falling out.
Regular rabies shots are a must-have. If your pet gets bitten by a raccoon or a wild animal they have to be treated if you didn't get a rabies shot ahead of time. Not to mention the consequences if they bite someone and haven't had their shots.
The cost of preventive care usually pales in comparison to the cost of treating the disease or problem that would have been prevented.
Eating like a king
There are some dog foods that come in small bags and cost almost $19 for a little bag. That would be crazy if you are feeding a big dog. It's also a little crazy if you are feeding a small one when there are alternatives.
For one thing, some dogs can't handle high-end food and are just fine with grocery store dog food. Overfeeding can lead to obesity and other health problems, which can also drain money from your wallet.
Several online stores discount pet food when you buy in bulk. When looking for dog or cat food, make sure the meat is listed first—not meat-by-products.
Uhh ohh they need meds
If your pet needs medicines, they usually cost more when you buy them from your veterinarian. Ask for a prescription and take that prescription to your local pharmacy. If you choose to purchase your pet's medications from an online pet pharmacy, purchase only from reputable pharmacies with a valid license in your state. You can check license status with your state pharmacy board (just Google "[your state] pharmacy board").
Never purchase prescription medications from a pharmacy that tells you that you don't need a prescription. Don't purchase medications from pharmacies outside the U.S., because they may be selling medications that are not FDA-approved or even expired or counterfeit meds.
Down and dirty
You can easily spend between $65.00 or more on grooming. Stop out-sourcing that. Get some dog shampoo and suds that pooch up at home. Get a cheap pair of clippers and just give them a buzz cut.
Learn how to clip their nails. It's a little scary at first -- for you and the dog -- but you can do it. If you don't want the mess at your house go to a wash-and-go place they are usually $15 or so and have all the supplies. You are saving time and maybe money.
To insure or not to insure?
There's no doubt a sick pet can cost thousands while also causing emotional grief to your family. Pet insurance may be the answer, if you get the right policy.
Depending on your pet (cat or dog), plans can range from $10 per month for limited accident coverage to $50 per month covering illnesses and accidents. Make sure you check and see if your pet's insurance premium would be better off invested in a high interest savings account (if you can find one). And always read the fine print to understand what is covered and the size of the deductible.
My suggestion? Open a pet savings account at your bank or credit union, wherever you stash your money every month. Call it a pet allowance -- you save it for your pet and you use it with your discretion.
OK, you really want Bella to be a lobster for Halloween. Well, you saved money all year long and didn't buy the most expensive dog food, you budgeted for one toy last month not two. You have the funds, so knock yourself out and have her suffer through greeting everyone at the door.
A pet savings account is a much cheaper approach than an expensive insurance policy and should cover most of your pet problems.
---