---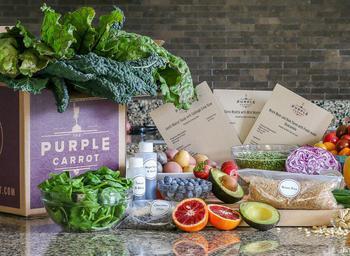 In an effort to cater to younger consumers' love of convenience and plant-based meals, Purple Carrot is bringing its meal kits to Whole Foods stores.
In an increasingly busy world, home-delivered meal kits are streamlining the cooking experience and making it easier than ever for consumers to whip up a meal fit to be shared on social media.
But the ability to pick up a Purple Carrot meal kit at the grocery store may have advantages of its own. In a statement, Andy Levitt, founder and CEO of the company, noted that consumers seem ready to see healthy, portioned-out meal kits somewhere other than on their doorstep.
"Over the last year, we've listened to the feedback of our busy consumers who also wanted to find our products on grocery shelves. With that in mind, we have created a new product so people can pick up their meal kits when they shop at Whole Foods Market," Levitt said in a statement.
No subscription
Purple Carrot meal kits are currently only available in one Boston-area Whole Foods store, but more locations are expected to follow if the pilot program is successful.
Offering consumers the ability to purchase meal kits individually instead of requiring them to commit to a subscription may signal a new trend in meal kits.
As Fast Company reported, one of the biggest challenges for the meal kit industry is holding onto clients. Only half of Blue Apron customers continue after the first week of service and other meal kit programs face similar hurdles in getting clients to stick around.
"We recognize that now, more than ever, our customers are in need of convenience without the sacrifice of quality and nutrition," said Kimberley Rose, Vice President of Purchasing for Whole Foods Market's North Atlantic region. "Purple Carrot has created a great product that will help us to provide our customers with one more way to continue to eat well even on the busiest of days."
Purple Carrot's in-store meal kit offerings are set to include Mongolian Seitan Stir Fry, Pan Seared Tofu and Black Rice Noodles, and Cashew Korma with Cauliflower Rice. Each meal kit will be available for $19.99.
---