---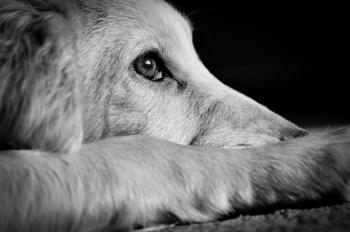 Does a forecasted thunderstorm leave you in anticipation of a night spent trying to calm your anxiety-ridden pooch?
If so, you might be interested to learn of a new drug by Zoetis called Sileo: the first medication approved by the FDA to treat noise aversion in dogs.
Noise aversion affects an estimated 40 percent of dogs, new research shows. And the condition can be as stressful for dogs as it is for their human parents.
What is noise aversion?
Fear reactions are most commonly seen as a response to fireworks (81%) or thunderstorms (73%), but some pet owners report that gunshots, construction noises, or even doorbells send their pups into panic mode.
Common signs of noise aversion include trembling or shaking, hiding, whining, whimpering, or barking. But in some cases, dogs may actually run away due to fear. Experts say it's no coincidence that July 5th is the busiest day of the year for shelters.
Many dogs end up at shelters as a result of their fear of loud noises, whether they experienced a flight response caused by fireworks or because their owners surrendered them due to behaviors caused by noise aversion.
"Many pet owners don't recognize noise aversion as a medical condition, but it is important to get treatment early because if left untreated, noise aversion can progress to a more severe state," said Sharon Campbell, DVM, MS, DACVIM, Veterinary Specialist, Medical Lead, Analgesia, Sedation, Anesthesia for Zoetis in a statement.
Now, the first medication developed specifically to treat this serious medical condition has become available.
Calms without sedation
Sileo is a flavorless calming gel that can be prescribed by your veterinarian and administered at home. And unlike some calming agents, it doesn't involve sedation.
Instead of masking symptoms, as sedatives do, the drug attempts to tackle the phobia itself by inhibiting norepinephrine -- a brain chemical associated with anxiety and fear. 
The gel, which is measured in a syringe ($30), is squeezed between the dog's cheek and gum. While drugs like Prozac may take up to six weeks to begin calming a nervous dog, Sileo is absorbed within 30 minutes. It then lasts for several hours.
Tests have shown that the treatment works in the majority of cases. Three-quarters of pet parents said their dogs' response to fireworks was "good to excellent" after being given the drug.
---