---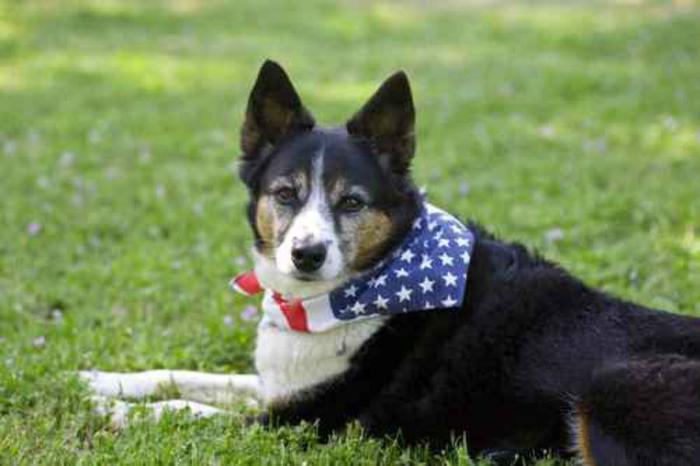 Fourth of July celebrations may be the most enjoyable time of the summer for many people. Unfortunately, this holiday leads to a large number of missing pets every year. National statistics report that animal control officers see a 30-60% increase in lost pets between July 4th and July 6th every year. Pet experts at DogVacay have suggestions to help you keep track of your animals.
New technologies have come a long way in helping your pet cope with anxiety. One product called the Thundershirt can help pets in a variety of different situations. It acts as a jacket for your pet, and applies a gentle, constant pressure that can alleviate fear and anxiety. Having one for your pet this coming July 4th can help your pets deal with fireworks and other stressors.
You can also work with your pet before the holiday by desensitizing them to loud sounds. By using video sharing sites, like YouTube, you can play firework sounds at a lower volume. This will allow your pet to get used to the sound so that the actual thing does not worry them as much.
Pairing the firework sounds with things that your pet likes, such as treats, hugs, meals, or walks, can also help them create a positive association. Gradually raise the sound of the fireworks until your pet is comfortable with listening to it at full volume.
Act appropriately
Exercise is one of the best stress relievers for both humans and dogs. Get your pet to run or take them for a long walk. This will tire them out so that they aren't so active during the festivities.
Even if you are able to prepare for the holiday, there is no guarantee that your pet will not get out and become lost. Microchip your pet so that you can track them if they get away. It will make finding them much easier.
Remember that your pet often looks to you for cues on how to act. If you are calm, then your pet is more likely to be calm. Issue commands that are firm and direct, and act as if everything is normal. You can also shut windows and doors, but make sure they are locked. If pets become scared, they can often scratch up these openings until they are able to get away.
As a final tip, be sure to keep your pets away from firecrackers and other fireworks. They can be easy to chew on, and visits to the vet can be very expensive during the holidays. Be safe and enjoy the holiday with your pets!
---