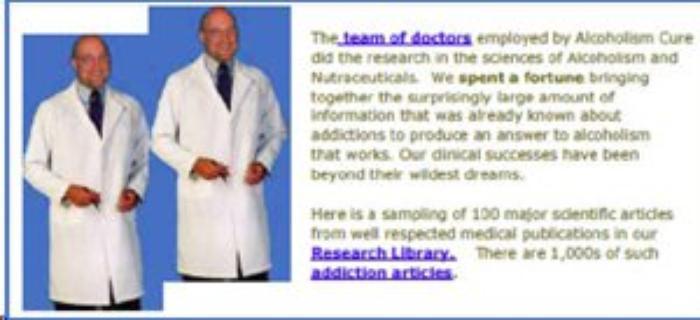 Robert Krotzer needs to scrounge together $732,480 or face jail time under terms of a federal court ruling. Krotzer is the one-time promoter of a supposed "alcoholism cure" that the Federal Trade Commission said was a scam.
In July 2012, Krotzer was ordered to make the payment, which represented his profits for the product that supposedly "cures alcoholism while allowing alcoholics to drink socially." But he didn't make the payment, claiming he didn't have the money.
The FTC and Florida's attorney general say that's not good enough. They want Krotzer to document his inability to pay.
"Virtually free"
Krotzer's ads also falsely claimed that the program was "virtually free", that the company had a "team of doctors" with expertise in addictive diseases, and that members' personal information and health details would be kept private.
In July 2012, the district court ruled in favor of the FTC and the Florida Attorney General, ordering the defendants to pay more than $700,000. The court had previously imposed a number of prohibitions on the defendants, including a ban on marketing or selling any treatment or cure for alcoholism, drug addiction, or any other health-related problem.
In his latest decision finding Krotzer in contempt, the judge ruled that to avoid going to prison, within 60 days Krotzer must:
1) pay $8,099 in proceeds received by Krotzer from his alcoholism cure customers after the 2012 order's entry;
2) produce comprehensive documentation of his inability to pay the full $732,480 judgment;
3) provide a detailed accounting of all money Alcoholism Cure Corporation or Alcoholism Cure Foundation received after the order was entered; and
4) provide a number of other financial details, including any assets transferred to his wife after 2005.