---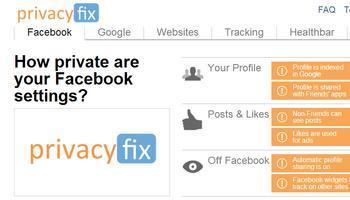 Facebook and other social media are constantly looking for ways to earn revenue and many of those ways involve selling information about you, if you happen to be a user.
These sites provide tools on their privacy pages to allow you to manage your privacy settings, but the process can be cumbersome and often confusing. Enter Privacyfix, a free browser app for Chrome and Firefox that has streamlined privacy management.
Once you download the tool it provides a quick analysis of potential privacy issues and gives you some options for dealing with them. For example, your basic information, like name and photo, are always public to help others connect with you. You can make this data harder to find by blocking it from search engines.
Becoming less visible
By default Facebook allows your friends to share your profile information with game and app publishers. You can block all sharing or allow only specific kinds of data to be shared.
By default, Facebook makes your posts public. You can change your default settings to be more private.
When you Like something through Facebook, it may display your name and image and Like in ads shown to your friends. You can block this use of your data.
Facebook automatically shares some profile information when you visit certain websites, unless you turn off this feature. Facebook collects data across thousands of websites using Likes and widgets. PrivacyFix can block this data collection.
Your Facebook value
In its analysis, Privacyfix will also tell you how much money Facebook is making from your data. It might be a few cents or several dollars. The amount, of course, gives you an idea of how much of your data is being marketed.
The Privacyfix interface gives you an option to change a particular setting, then takes you directly to the webpage where you can make the change. It even provides directions on how to proceed.
As for the way it operates, Privacyfix says it saves no IP addresses or history and uses no cookies. You remain completely anonymous, the site says.
The tool was launched in October by a company called Privacy Choice, a data analysis firm.
---