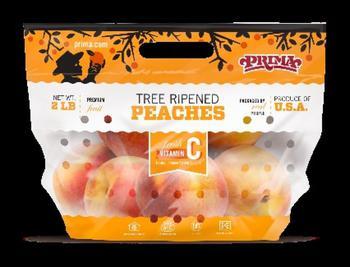 Prima Wawona of Fresno, Calif., is recalling Wawona, Wawona Organic brand conventional and organic bagged peaches.
The products may be contaminated with Salmonella.
The recall is being made in connection with a Salmonella outbreak under investigation by the FDA and CDC that is suspected to have caused the illness of more than 60 people in nine states.
The peaches with the following product codes were sold in supermarkets from June 1, 2020 to August 19, 2020:
Wawona Peaches – 033383322001
Wawona Organic Peaches – 849315000400
Prima® Peaches – 766342325903
Organic Marketside Peaches – 849315000400
Kroger Peaches – 011110181749
Wegmans Peaches – 077890490488
The product codes may be found at the bottom of each package.
The recalled peaches were distributed through retailers in Alaska, Alabama, Arizona, California, Colorado, Connecticut, Florida, Georgia, Hawaii, Iowa, Illinois, Indiana, Kentucky, Louisiana, Massachusetts, Maryland, Maine, Michigan, Minnesota, Minnesota, Missouri, Mississippi, North Carolina, New Hampshire, New Jersey, New York, Ohio, Pennsylvania, South Carolina, Tennessee, Texas, Utah, Virginia and Wisconsin.
What to do
Customers who purchased the recalled products should discard or return them to the place of purchase for a refund.
Consumers with questions may contact Prima Wawona toll-free at (877) 722-7554, from 8 a.m. to 5 p.m. (ET) Monday through Friday, or online at wawonapacking.com.