---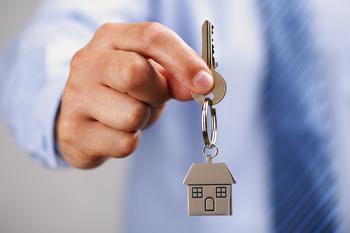 You have to go back nearly a decade to find a time when previously-owned owned homes were selling at a faster pace than they did in May.
According to the National Association of Realtors (NAR), total existing-home sales -- completed transactions that include single-family homes, townhomes, condominiums and co-ops -- rose 1.8% last month a seasonally adjusted annual rate of 5.53 million.
Sales are now up 4.5% from the same period last year and are at their highest level since February 2007.
May marks the third consecutive month of rising sales. "This spring's sustained period of ultra-low mortgage rates has certainly been a worthy incentive to buy a home, but the primary driver in the increase in sales is more homeowners realizing the equity they've accumulated in recent years and finally deciding to trade-up or downsize," said NAR Chief Economist Lawrence Yun.
"With first-time buyers still struggling to enter the market, repeat buyers using the proceeds from the sale of their previous home as their down payment are making up the bulk of home purchases right now."
Prices and inventory
The median existing-home price for all housing types in May was $239,700, up 4.7% from May 2015, surpassing the peak median sales price of $236,300 set last June. May also marked the 51st consecutive month of year-over-year gains. The median is the point at which half the homes cost more and half cost less.
Total housing inventory was up 1.4% to 2.15 million existing homes available for sale at the end of May, but is still 5.7% lower than a year ago (2.28 million). That translates to a 4.7-month supply at the current sales pace.
"Existing inventory remains subdued throughout much of the country and continues to lag even last year's deficient amount," noted Yun. "While new home construction has thankfully crept higher so far this year, there's still a glaring need for even more, to help alleviate the supply pressures that are severely limiting choices and pushing prices out of reach for plenty of prospective first-time buyers."
Sales regionally
Existing-home sales in the Northeast rose 4.1% in May to an annual rate of 770,000, and are now 11.6% above a year ago. The median price was $268,600, down 0.1% from May 2015.
In the Midwest, sales dropped 6.5% to an annual rate of 1.30 million in May, but are still up 3.2% year-over-year. The median price was up 4.8% to $190,000.
The South saw a sales gain of 4.6% to an annual rate of 2.28 million, and are now 6.5% above May of last year. The median price was $211,500, a gain of 5.9% from a year ago.
Sales in the West advanced 5.4% to an annual rate of 1.18 million, but are still down 1.7% from May 2015. The median price was $346,900 -- 7.7% above the year before.
---