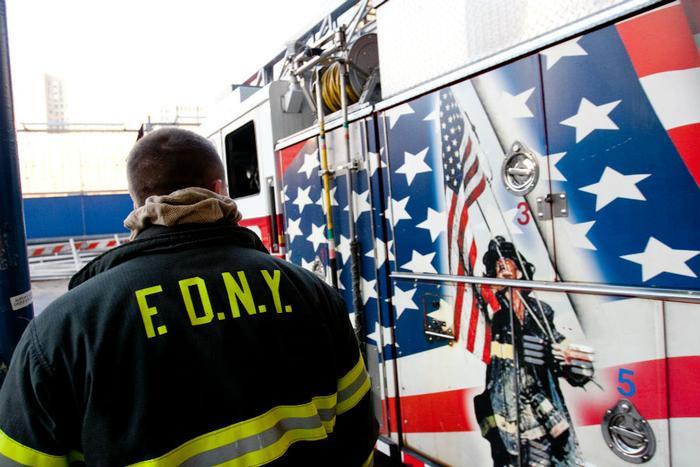 President Trump has signed a bill providing money for health benefits for first responders who developed diseases after working at the scene of the September 11, 2001 terrorist attacks.
There are sufficient funds to provide benefits through 2092 and future applicants have another 71 years in which to file a claim.
"Today we come together as one nation to support our September 11 heroes, to care for their families and to renew our eternal vow: Never, ever forget," Trump said at the bill signing ceremony.
The signing was the culmination of effort by first responders and their supporters, including comedian Jon Stewart. When the measure appeared to be stalled in mid June Stewart appeared at a congressional hearing and delivered a tongue-lashing of lawmakers reminiscent of a scene from the 1939 Frank Capra film "Mr. Smith Goes to Washington."
95,000 claims
So far, the Congressional Budget Office (CBO) estimates about 95,000 people - mostly first responders -- have made claims against the fund. Going forward the CBO estimates the fund could receive another $10 billion in claims over the next 10 years.
Senate Majority Leader Mitch McConnell (R-Ky.) said the fund was never in danger of expiring but it appeared to come close, prompting Stewart's impassioned plea. The deadline for making a health claim was set to expire in December and officials administering the fund warned it might not have money to pay all the claims made by then. 
Three weeks after Stewart's appearance before a House subcommittee, the House passed the extension. The Senate gave final approval last week.
Private efforts
Eighteen years after the attack on the World Trade Center and Pentagon, private efforts also continue to support the men and women who responded on that day. RingBoost, a company selling custom phone numbers, announced that it will be donating 5 percent of proceeds over the next month to The Stephen Siller Tunnel to Towers Foundation. 
The organization honors Stephen Siller, a New York City firefighter killed on 9/11. The money is used to support families financially.
Earlier this month, Amazon entrepreneur Lori Barzvi, owner of ForGuy, LLC, announced her business would donate a portion of its profits to 911 Health Watch, an organization that provides services for first responders and victims and lobbies to ensure that the government is providing all necessary benefits.