---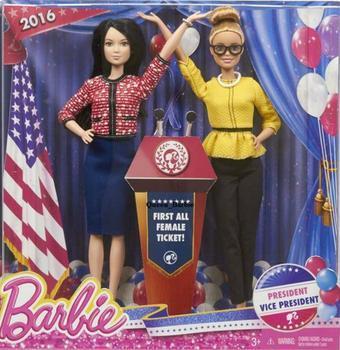 Earlier this year, the Barbie mold was broken when Mattel added three new body shapes and seven skin tones to its doll lineup. Now, Mattel is taking their push for diversity and female empowerment a step further.
In an effort to drive home the fact that girls can be leaders, Mattel has joined forces with She Should Run to create President and Vice President Barbie.
While Barbie has aspired to step into the Oval Office in the past, this is the first time the doll will be accompanied by a female vice president. The brand's first all-female ticket was created in the hope of enabling girls to use Barbie to imagine themselves in leadership roles. 
Encouraging dreams of leadership
Prior to developing the dolls, Mattel sought to understand how girls view leadership and their potential to take on empowered roles. They tapped into the findings of the Girl Scout Institute, who discovered that just 39% of girls say they want to be a leader.
The political Barbies -- and a companion video, which shows what happens when girls use Barbie to play out their dreams of leadership -- are a bid to motivate girls to explore career opportunities in fields that are traditionally male dominated. 
Imagining possibilities 
With its "You Can Be Anything" campaign, Mattel hopes to inspire girls to use Barbie to imagine everything they can become. 
"The President and Vice President dolls continue our efforts to expose girls to inspiring careers that are underrepresented by women," said Lisa McKnight, general manager and vice president of Barbie, adding that she sees the doll as a "timely and topical platform" for discussing female leadership.
President and Vice President Barbie were sent to all the women in congress, several of whom praised the "inspiring and powerful" toy running mates on Twitter.  
The dolls -- which will be available in a variety of hair colors, skin tones and facial shapes -- will be sold as a set for $24.99.
---