---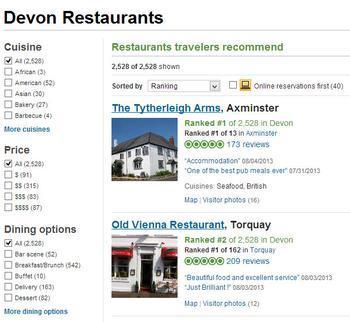 It sounded too good to be true -- a "simply divine" and "mind-blowing" seaside restaurant where scuba divers were standing by to jump in and catch diners' orders.
How's that again? Yep, you heard right. According to the glowing reviews on TripAdvisor, "Oscar's" was a floating restaurant in Devon, England, where divers would jump into the water and grab the exact fish you ordered.
It sort of took the concept of "Today's Catch" to new heights. Or depths.
Hungry seafood lovers flocked to Devon, looking for New Quay Lane, where Oscar's was said to be built into the hull of an old fishing boat.
There was only one problem. No Oscar's. The place doesn't exist. Oscar's was a hoax.
"Tough luck"
The rave reviews had been posted by a businessman who said he wanted to see how long it would take TripAdvisor to catch the fraud, according to The Daily Mail.
"I was also aware that various establishments had contacted TripAdvisor about obvious fake reviews, but the response always seemed to be: 'Tough luck!'" the Mail quoted the unnamed businessman as saying.
The hoax follows an episode that was revealed in May, when an Australian hotel executive allegedly admitted writing 106 hotel reviews, praising his hotels and trashing his rivals.
Harmless fun? Well, maybe if you think fraud is fun. But pranksters should remember that consumers rely on online peer reviews and consider them among the most trustworthy sources of information, studies have found. Also, submitting a false review can land businesses in big trouble, both with consumers and with agencies like the Federal Trade Commission, which considers posting a false review comparable to publishing a fraudulent advertisement.
Review sites don't necessarily like being lied to either. Auto site Edmonds.com sued a reputation management firm recently, claiming it submitted fraudulent reviews about its car dealer clients.
For its part, TripAdvisor says its internal controls catch most fraudulent postings while its readers alert it to others.
"With over 70 pieces of content coming in every minute covering more than 2.7 million properties around the world, occasionally a review or business that does not meet TripAdvisor's guidelines may slip through the cracks, and in these rare cases, our members can report the material to us, helping maintain the high quality content of our site," TripAdvisor spokeswoman Brooke Ferencsik told ConsumerAffairs.
"Any member can alert us to a suspicious review by clicking on the 'Problem with this review?' link that is displayed in the bottom hand corner of every review on our site. In addition, in the rare event that a member finds a suspicious listing, they can report the matter to us directly via our online help center," Ferencsik said.
"As the world's most visited travel site, we are absolutely committed to ensuring that the content on TripAdvisor remains accurate and provides a trusted and useful source of information for those planning a trip anywhere in the world," she said.
---