---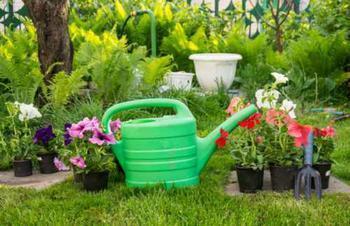 As warmer weather approaches, many homeowners are planning to tackle outdoor renovations. Nine in ten homeowners are planning on sprucing up their yard in some way this year, according to a survey by Houzz.
What projects will they be taking on? The majority said they'll be updating outdoor systems (82%), beds and borders (80%), and structural elements (72%). But when it comes to actually executing these projects, it seems homeowners know their limits -- over half (52%) said they'll be enlisting the help of a landscape contractor, architect, or designer for their projects.
But that still leaves an admirable percentage of folks who plan to take matters into their own hands. So what are some of the more painless outdoor renovations a homeowner can take on?
Pet-friendly plants
Outdoor updates for children and pets will both be popular upgrades this year, according to the survey. But interestingly, pet-related upgrades are sought after by a higher percentage of people (42% vs. 33%).
Those looking to turn their yards into a pet-friendly oasis for their lucky pets may be thinking of planting some toxin-free plants. Indeed, if your furry companions are allowed in the backyard, it's important to keep them in mind when selecting plants.
If you've got a backyard digger on your hands, steer clear of bulbs (such as Tulips and Daffodils). According to experts, when the plant parts or bulbs are chewed or swallowed, it can lead to tissue irritation in the mouth and esophagus. Resulting symptoms will require immediate attention and include profuse drooling, vomiting, or diarrhea.
But opting for pet-friendly plants doesn't have to mean sacrificing the aesthetic appeal of your yard. Many non-toxic plants are as lovely as they are pet-safe. Zinnias, Snapdragons, Celosia Plumosa, China aster, and Petunias are all on this handy list of pet-friendly, non-toxic plants.
Low-maintenance plantings
Upgrading the back yard doesn't stop with pet owners, though. Seventy-eight percent of homeowners are planning on adding some low-maintenance plantings to their yard. It's a project that will pay off in the long-haul, in the form of backyard beauty that's easily manageable.
When planning a low-maintenance landscape, be sure to pick plants specific to your USDA Hardiness Zone and plant to your yard's conditions. A little pre-planning can go a long way towards avoiding the frustration of a plant that doesn't make it.
Yuccas are low-maintenance favorite of many. Its spiky foliage lasts all season, and it'll even offer up a few white blooms mid-summer. It can grow up to five feet wide, which means you can fill a big space with just a few yuccas. Fewer plants can often make a big impact.
The Endless Summer Hydrangea is another low-maintenance favorite. Hydrangeas are tolerant of most soil conditions with moderate moisture, but keep in mind that deer love hydrangeas. Be sure to plant them in a deer-free area to avoid having this low-maintenance beauty consumed as a snack. 
---