---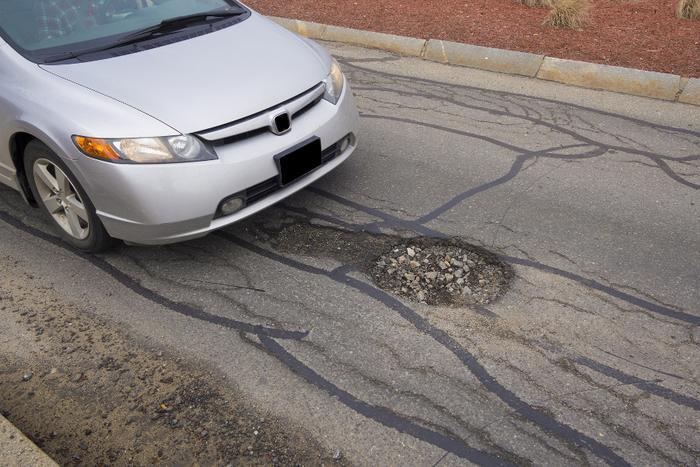 Yes, the winter of 2013-14 was a tough one, with ice and snow covering wide swaths of the nation for weeks on end. But now that spring has officially arrived, don't expect winter to go quietly. It's leaving behind a jarring reminder of its presence.
Potholes.
Anyone who drives is familiar with the pothole. It forms in an asphalt roadway, especially after a harsh winter. The combination of moisture in the soil underneath and the constant pressure of traffic above causes asphalt to weaken and open holes.
A proliferation of potholes can be a challenge, not only for motorists but for states and municipalities that must budget for street repair. In Hoboken, N.J., the Jersey Journal reports there are so many potholes on city streets that residents are besieging City Hall with complaints.
The city, for its part, says it's doing the best it can. A city spokesman says the city has already filled more than 1,000 potholes this year.
Other cities, especially in the northeast, are also coping with a rising number of potholes. The Boston Globe reports the City of Boston has filled more than 8,800 potholes so far this year, but not in time to prevent damage to cars and trucks that hit them. Car repair shops report damage, not just to tires but also to suspensions and axles.
Serious threat
The Rubber Manufacturers Association, the national trade association for tire manufacturers that produce tires in the U.S., warns drivers that potholes comprise a serious threat.
"Potholes are a driving hazard that can cause significant damage to your vehicle and ruin a tire," said Dan Zielinski, RMA senior vice president, public affairs. "Motorists should be extra careful to avoid potholes but if you hit one, you need to have your vehicle and tires checked for damage."
When you hit a pothole you may immediately realize you have suffered damage. Hitting a pothole can actually puncture the tire or otherwise cause it to deflate. But sometimes you may not notice a problem until later, when you realize the car isn't handling quite the same way.
"If you notice a change in your vehicle after hitting a pothole, have it inspected immediately," Zielinski said. "Hitting a pothole can affect wheel alignment. Failure to address faulty alignment could cause uneven and premature tire wear."
Eight signs you have a problem
Car repair shops see a lot of tire and wheel damage during especially severe pothole seasons. Tuffy Tire & Auto Service, an automotive service franchise, has published a list of 8 signs that the pothole you hit has caused damage to your vehicle. They are:
The vehicle rolls or sways on turns.

The vehicle's front-end dives when braking.

The vehicle's rear end squats when accelerating.

The vehicle bounces or slides sideways on a winding, rough road.

The vehicle "bottoms out" or thumps on bumps.

The vehicle sits lower in the front or rear.

The vehicle is leaking or has signs of physical damage, such as rusting or dents.

There's a loss of directional control during sudden stops of the vehicle.
"No matter where you drive these days, there's a pothole epidemic and as winter turns to spring, it's only going to get worse," said Rich White, executive director, Car Care Council. "Drivers know immediately when they hit a pothole, but what they don't know is if their vehicle has been damaged in the process. While tires and wheels can be visually checked, potholes can also cause considerable damage to the steering, suspension and alignment systems that you just can't see."
Meanwhile, avoiding potholes is your best defense against vehicle damage. While that may not be as simple as it sounds, the Weather Channel has come up with a list of tips that might help.
---