---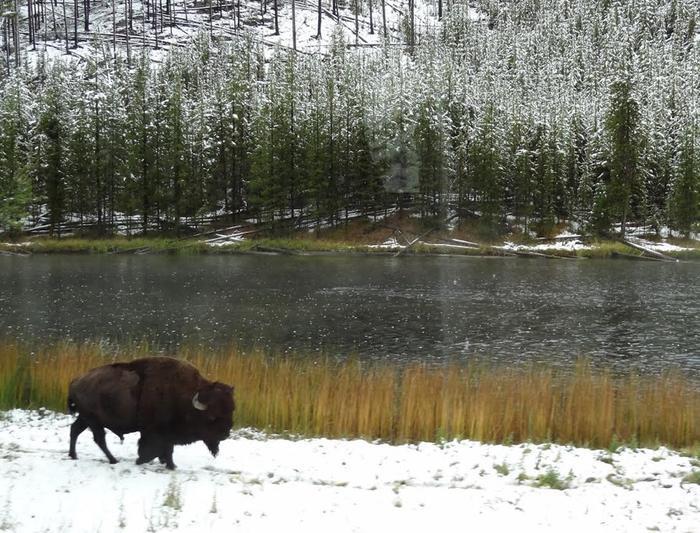 What's it like to travel to Grand Teton and Yellowstone National Parks after the crowds go home? That's what we did last week. We specifically chose a group tour the first week after Labor Day to avoid the crowds. What we never checked was activity availability, and we were surprised to learn that many activities and special events shut down after Labor Day.
Did it spoil our experience? Not really; while we would have liked to have taken a cruise on Jenny Lake, it was pleasant hiking the trails with the aspens turning gold and just a few other tourists on the pathways.
Float trips down the Snake River are available through September and they are offered during the day and in the evening. It was a relaxing way to view the Grand Tetons from a variety of perspectives and search for wildlife. Bald eagles and magpies were plentiful on our trip; the bison and elk were elusive.
The weather is unpredictable in September with the temperatures fluctuating from the low-thirties Fahrenheit to the mid-seventies. If you forget something, there are plenty of outdoor stores and the local shops within the parks conveniently carry anything you might have left at home.
There were winter hats, warm gloves, fleece jackets and vests, and a wide assortment of rainwear. I was tempted to buy one of the attractive fleeces even though I had one with me. While my husband and I packed well, we needed to buy winter hats when we heard snow was definitely in the forecast.
What we did not expect were the wildfires. Grand Teton National Park is just twelve miles from the South entrance to Yellowstone. A fire closed the South entrance and we drove three hours through Idaho and Montana to reach the West entrance. We crossed two more states off our "bucket list," but wound up losing a full day. By the time we entered Yellowstone, the snow was falling hard and we were unable to do any hiking after checking into our hotel.
The following morning, we stood in freezing cold in the snow waiting for "Old Faithful." It was worth the 45-minute wait as the geyser was just as exhilarating as you imagine it will be. The snow stopped falling and the sun came out, casting a magical glow on the pines and grounds in the park. It was truly a treat to see Yellowstone draped in snow, and once the ground dried and we no longer had wet feet, we were able to appreciate it.
All along the roadways, through the hot springs and Sylvan Pass, we saw Yellowstone bison, individually and in herds. They are the largest land-dwelling animals in North America and there were plenty of opportunities to take their photos. We kept our distance as, aggressive when disturbed, they can run up to 35 miles per hour. On our second to last day, we got a chance to see an elk and two bear cubs. We got the best shot of the elk and every member of our group insisted on a copy.
Our national parks are our heritage. They are just as glorious as anything you can see anywhere in the world. A layer of snow did not hamper our enjoyment; it just added to the splendor of our Yellowstone experience.
Thanks
Keep an eye on your inbox, the lastest consumer news is on it's way!
Unsubscribe easily whenever you want
---