---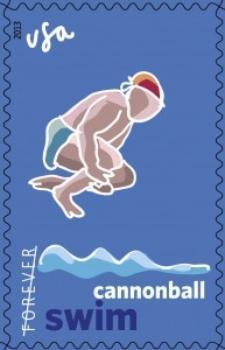 As if the U.S. Post Office didn't have enough financial problems already, it has to destroy the entire print run of its not-yet-released "Just Move" pro-exercise stamps, because some unnamed "sports figures on the President's Council on Fitness, Sports & Nutrition" worried that three of the fifteen stamps – those showing stylized human figures either performing a cannonball dive, skateboarding without knee pads, or doing a headstand without a helmet – promote unsafe activities.
This is a sensible reaction—indeed, the only possible good-person response—if you believe children are natural philatelists heavily influenced by postage stamps.
We're more disturbed by the fact that the stamps show people without faces, which is fine for adults-only postal activities but might give impressionable children the wrong ideas about healthy bodily self-image.
And, while we're looking for reasons to criticize the stamps and urge their destruction, we may as well point out that the cannonball-dive stamp clearly shows a male rather than female figure, which either promotes self-destructive "go endanger yourself" messages to little boys, or misogynistic "athletics aren't for you" messages to little girls.
Whatever it is, it must be bad.
---