---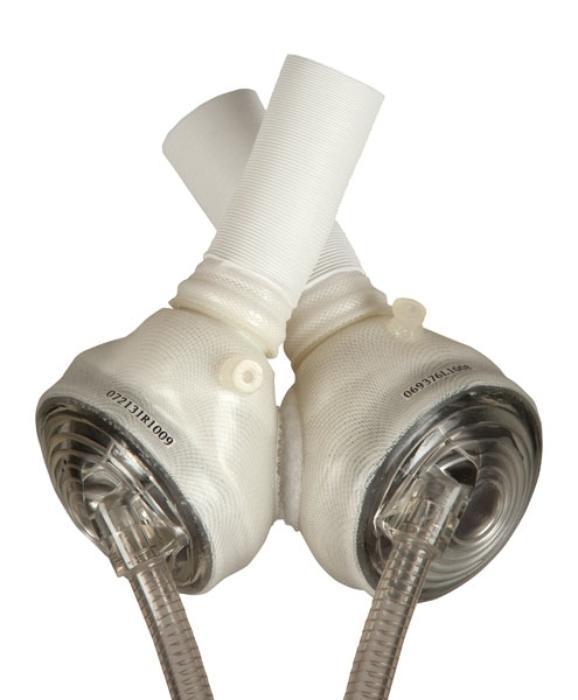 Heart transplant operations have given people with severe heart disease a new lease on life. Pioneered in the 1960s, these operations have now become almost routine.
But like any transplant operation, there must be a healthy donor whose blood type is a match with the recipient's. That means some patients die while waiting for a donor.
In 1982 Dr. Robert Jarvik made headlines when he created an artificial heart and implanted it in a patient named Barney Clark. The purpose was to keep the patient alive long enough to find the right human heart.
Over the years artificial hearts have been improved but most still require their recipients to be hospitalized. However, the new artificial hearts allow for much greater mobility. Doctors at the University of Michigan are among the latest to implant a wearable artificial heart.
Going home with an artificial heart
Twenty-four-year-old Stan Larkin, of Ypsilanti, Mich., went home to spend Christmas with his family after his heart had been removed as he waits for a donor. His artificial heart is powered by a portable 13-pound device that keeps blood flowing through his body.
Larkin is the first to leave a Michigan hospital without a human heart and is part of a unique group of heart patients in the United States who've gained independence because of the mobile technology.
"The device Stan has is the SynCardia temporary Total Artificial Heart, a mechanical pump to bridge him to transplantation," said University of Michigan cardiac surgeon Jonathan Haft. "He's still listed for a heart transplant and we hope to transplant him as soon as an organ is available. In the meantime he can be at home, he can be functional, and continue to rehabilitate himself so he's in the best possible shape when his opportunity comes."
Simple, yet critical function
The machine performs a simple, yet critical function. There are 2 tubes that extend from the body, connected to a machine that can deliver compressed air into the ventricles to allow blood to be pumped through the body.
Before this device came along, the only approved temporary Total Artificial Heart was the "Big Blue" hospital driver which weighs 418 pounds and is the size of a washing machine.
Because of a shortage of donated hearts and the need for a biological match, artificial heart patients were sometimes confined to a hospital bed for months, even years. The portable device, called the Freedom driver, does the same thing as its heavier and bulkier counterparts, except people using it can carry on a much more normal life.
"I had a lot of questions but I was enthusiastic to learn," said Larkin who was discharged Dec. 23. "This is what's keeping me going. I can't wait to get a heart transplant so I can truly feel like myself again."
The American Heart Association says 5.7 million Americans are living with heart failure and about 10% have advanced heart failure.
---