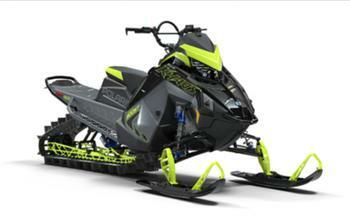 Polaris Industries of Medina, Minn., is recalling about 11,00 model year 2022 MATRYX RMK, INDY, SWITCHBACK, VOYAGEUR, and NORDIC PRO snowmobiles.
The throttle release switch (TRS) can fail to disengage when the throttle lever is released. If a stuck throttle condition occurs when the TRS fails to disengage, it can lead to loss of vehicle control and increase the risk of a crash.
Additionally, on certain MATRYX RMK snowmobiles, the throttle cable can be kinked during installation. This can lead to damage of the throttle cable during operation and impairment of the throttle function, posing a crash hazard.
The firm has received four reports of kinked throttle cables and three reports of a stuck throttle. No injuries have been reported.
This recall involves certain VINs of Model Year 2022 MATRYX RMK, INDY, SWITCHBACK, VOYAGEUR, and NORDIC PRO snowmobiles.
The recalled snowmobiles were sold in the following color combinations: black/titanium, red/black, blue/white/red, black/gray/blue, gray/lime, red/black/white, navy/silver/white, white/black/plum, tan/black/orange, gray/black/lime, gray/black/red, orange, black, and jade.
Polaris and the snowmobile's model name are printed on the chassis on both sides of the vehicles. The model year and VIN are stamped on the right side of the tunnel.
The snowmobiles, manufactured in the U.S., were sold at Polaris dealers nationwide from December 2019, through January 2022, for between $13,300 to $19,700.
What to do
Consumers should immediately stop using the recalled vehicles and contact a Polaris dealer to schedule a free inspection. If needed, an adjustment of the throttle control assembly and/or a repair to replace the throttle cable (MATRYX RMK only) will be made.
Polaris has notified consumers to stop riding the snowmobiles, and it is contacting all registered owners directly to provide more details about the repair.
Consumers may contact Polaris at (800) 765-2747 from 7 a.m. to 7 p.m. (CT) Monday through Friday or online at www.polaris.com. Consumers can click on "Off Road Safety Recalls" at the bottom of the company's webpage and enter their vehicle identification number "VIN" to see if their vehicle is included in any recalls.