---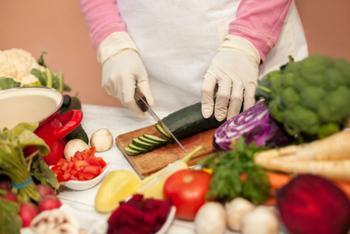 Adhering to a vegan or vegetarian diet during pregnancy isn't harmful to a developing baby as long as an expectant mother's meals are well-balanced.
In a statement, the Academy described vegan and vegetarian diets as "healthful" and noted that plant-based eating habits may even "provide health benefits for the prevention and treatment of some chronic diseases."
Plant-based diets have been shown to provide health benefits to people of all age groups, the authors say, likely because vegans and vegetarians tend to "consume more fruits and vegetables, fewer sweets and salty snacks, and smaller amounts of total and saturated fats."
But as with anything, balance is key. The group of nutritionists stipulated that these diets must be monitored and carefully planned out in order to ensure that proper amounts of important nutrients are obtained.
Appropriately planned meals
Children and developing babies aren't at risk of becoming malnourished if flesh foods aren't included in their diet. In fact, plant-based diets "typically meet or exceed protein intakes, when caloric intakes are adequate," the authors wrote.
But parents and caretakers should make sure that vegan or vegetarian children are getting key nutrients such as iron, zinc, and vitamin B-12. One way to do this is through planned, well-balanced meals, says Vandana Sheth, a member of the Academy.
"Any diet that is not well planned and balanced can have negative side effects," Sheth told Reuters. "Just because foods are plant based doesn't automatically make them healthy. For instance, pastries, cookies, fried and salty foods may be vegan but don't really provide much in terms of nutritional value."
Vegan diets can reduce the risk of diabetes by 62%, heart-attack by 33%, heart disease by 29%, and cancer by 18%. During pregnancy, vegan or vegetarian diets can lower a woman's risk of excessive gestational weight gain and reduce the risk of complications such as gestational diabetes.
What's more, "people who adopt vegetarian diets have a lower body mass index, better control of blood pressure and blood glucose, less inflammation and lower cholesterol levels compared with non-vegetarians," Sheth added.
But to see these health benefits, and to make sure children are receiving important nutrients, meals should be well-balanced and care should be taken to ensure that diets are low in processed foods.
Thanks
Keep an eye on your inbox, the lastest consumer news is on it's way!
Unsubscribe easily whenever you want
---