---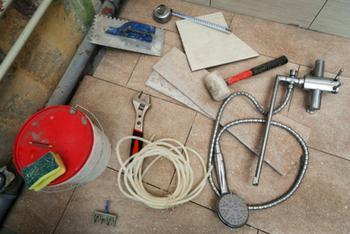 Whether you do so to add value to your home or to enhance the functionality of your space, remodeling a bathroom can be a huge undertaking. To avoid wasting money as you make your design goals a reality, it's important to take certain considerations into account.
While other rooms of the house may only require cosmetic work, bathrooms often require a fair amount of structural work. In small spaces such as bathrooms, it's important to make sure your style choices don't get in the way of the functionality and safety of the space.
Before rolling up your sleeves to complete a bathroom remodel, keep these tips in mind.
Be careful with design choices
First, be careful with your design choices. Certain designs may not work without tearing out walls or repositioning piping and electrical wiring, says Talbot Watkins, president of Winstar Home Services, a Baltimore-based provider of heating, cooling, and electrical services.
In addition to knowing what your design is, it's important to know how much room you have to work with. Taking space into consideration can help you avoid costly mistakes and ensure that your space comes out feeling comfortable.
Vanities that are too low are a common comfort-sapping design choice. "We bring those up to 36 to 38 inches, depending on the client's height," Lori Carroll, president of Lori Carroll & Associates, told HGTV.com. "Dated plumbing fixtures, as in the avocado sink and tub, are also reasons for a remodel. Neutral is the name of the game in today's fixtures."
Consider safety
Consider adding a few features that will boost the safety and accessibility of the space, such as grab bars and a seated shower chair. Features such as these can be safe and stylish while complementing the bathroom's design, says Watkins.
For those with limited mobility, Watkins suggests considering a walk-in tub. Most, he notes, can fit in the same space as an existing bathtub or shower.
Don't forget your plumbing
To prevent plumbing-related inconveniences from occurring down the road, consumers should consider upgrading their drain pipes. If your bathroom remodel requires additional drainage, the experts at Winstar Home Services recommend the following changes: 
To avoid clogging, consider upgrading from standard 1 ½" drain pipes to 2" drain pipes.

To avoid frozen pipes in the winter, make sure water lines aren't routed through exterior walls.
---