---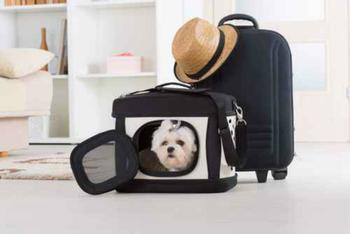 Spring travel season is upon us, and airlines are predicting record-high numbers of air travelers this March and April. But while a stress-free vacation may be waiting for you on the other side of your flight, it may be a different story while you're up in the air -- especially if Fido is up the air with you.
Bringing the family dog on vacation comes with plenty of benefits, from not having to board him to getting to enjoy your pup's company in a new location. But before it comes time for sandy paws and beach walks, you'll have to get him from point A to point B.
Flying with your dog can often come with its share of stresses and hiccups, but a little pre-planning can help the experience go smoothly for everyone.
Before the flight
There are a few things you can do before the flight to help ensure your canine companion stays safe and calm en route: 
Walk him. About an hour beforehand, take your dog on a walk. Be sure it's a nice and leisurely walk, so he doesn't get too amped up.
Call ahead. Call the airline ahead of time to register your dog, since many airlines can only take a certain number of pets per flight. It's also a good idea to ask if your dog's crate is the right size to bring on the plane.
Include identification. ID your dog and his carrier. The ID should include his name, your contact information, and where your pet is traveling to and from.
Avoid feeding right before. To avoid an upset tummy, try to avoid feeding your pup too soon before the flight.
Below the plane 
If you're sending your dog under the plane, there are a few added precautions to take:
Call ahead. Again, it's important to register your dog and make sure his crate is the right size.
Don't give them medicine. According to the pet experts at DogVacay, giving your pup medicine to calm them pre-flight is a no-no since calming medications can make it difficult for dogs to adjust their body temperature. Because the air temperature can change while flying (especially below the plane), it's important that your pet be able to regulate his or her body temperature.
Once the flight is behind you, the fun can begin! Check out DogFriendly.com for a list of dog-friendly attractions in the U.S. and Canada. From beaches where dogs can run off-leash to resort hotels with doggy room service, DogFriendly lists all the places where dogs can have just as much fun as people on vacation. 
---