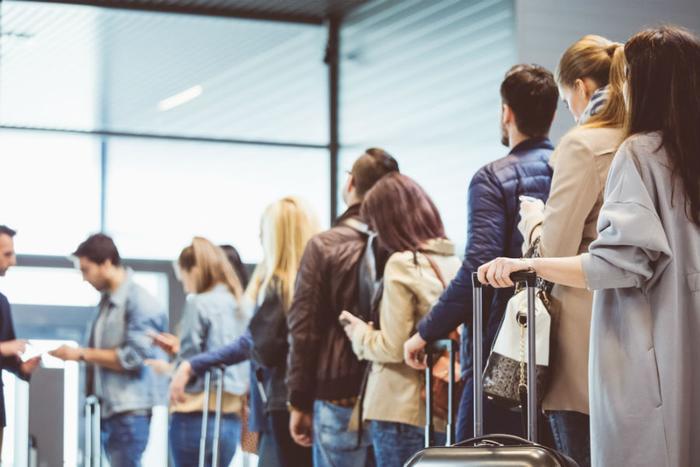 At the Aircraft Interiors Expo 2019 in Germany, Italian seat manufacturer Aviointeriors unveiled a new chair design that would put airplane passengers in a near-standing position. The concept would allow airlines to offer another option called "ultra-basic economy," the company said.
The latest version of the company's Skyrider "standing seat" looks similar to a bicycle seat and requires a passenger to straddle the middle section while leaning against a back support.
"Skyrider is concept foundation of new way to travel in the short-haul routes," the company said on its website. "Innovation is driving Aviointeriors in developing a new concept of a family of economy seats."
'Ultra-high density' of people
Aviointeriors says its Skyrider standing seats may appeal to airlines eyeing different ways of fitting more passengers into cabins on flights shorter than three hours. With the seats installed, airplane cabins would be able to fit in 20 percent more passengers in the same amount of space.
The manufacturer explained that the seats would allow for an "ultra-high density" of passengers in the cabin because each seat "ensures an increased upright passenger position, allowing installation of the seat at a reduced pitch."
Additionally, the newest version of the Skyrider seat "weighs 50% less than standard economy class seats and the reduced number of components enable minimum maintenance costs," Aviointeriors said.
So far, no airline has expressed interest in testing Aviointeriors' standing seats.
The unveiling of the latest iteration of the company's standing seats comes just a few weeks after Delta revealed that it's testing reduced-recline seats in its A320 aircraft cabins. Delta insists the move is intended to increase legroom and improve the customer experience for everyone, not cram more seats into the economy cabin.
"It's all about protecting customers' personal space and minimizing disruptions to multitasking in-flight." Savannah Huddleston, a company spokeswoman, said in a statement.