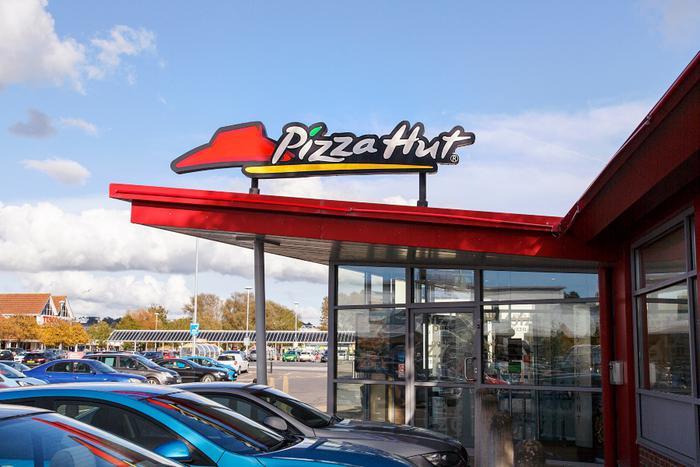 Plant-based meat products took a giant leap on Tuesday when Pizza Hut announced a partnership with Beyond Meat to become the first national pizza company to offer a plant-based meat pizza coast-to-coast.
The move is certainly timely. Consumers are growing fond of plant-based meat alternatives, mainly due to food shortages and high meat prices brought on by the coronavirus pandemic. Recent studies have also shown that plant proteins are especially effective at preventing disease.
Not to rain on Pizza Hut's parade, but it's important to note that when it says "first national pizza company" and "coast-to-coast," it's using a fairly broad brush to posture itself. Donatos Pizza -- a Columbus, Ohio-based pizza chain with locations mostly in the midwest and southeast U.S. -- launched three new pizza varieties incorporating plant-based sausage earlier this year. Little Caesar's also rolled out its own sausage-alternative pizza at select locations in Florida, New Mexico, and Washington in 2019.
Kicking off with a sausage alternative
Pizza Hut kicks off its new plant-based offering with the nationwide launch of two "Beyond Pan Pizzas" – the Beyond Italian Sausage Pizza and the Great Beyond Pizza.
The Beyond Italian Sausage Pizza is really just Pizza Hut's classic cheese pizza topped with plant-based Beyond Italian Sausage crumbles that feature a blend of Italian seasonings. For the Great Beyond Pizza, Pizza Hut is using its original pan crust and topping it with Beyond Italian Sausage and veggie toppings that include tomatoes, sliced red onions, and banana peppers.
"I'd challenge anyone to go try the new Beyond Pan Pizza and tell the difference. I shared it with friends and family, and they couldn't," said David Graves, Pizza Hut's chief brand officer. "The Beyond Italian Sausage is rich, juicy and has the signature Pizza Hut flavors — pizza lovers everywhere are going to love it."
Limited availability
Foodies who want to try the new pizzas may have to act quickly. Pizza Hut says they'll both be available for a limited time while supplies last at all traditional Pizza Hut locations nationwide for contactless delivery, carryout and curbside pickup, and at select participating Pizza Hut Express locations.
Pizza Hut's owner, Yum Brands, didn't indicate whether it will incorporate Beyond Meat products with its other restaurants -- KFC, Pizza Hut, Taco Bell, The Habit Burger Grill, and WingStreet -- but Pizza Hut did say that the announcement comes as part of a "broader collaboration."