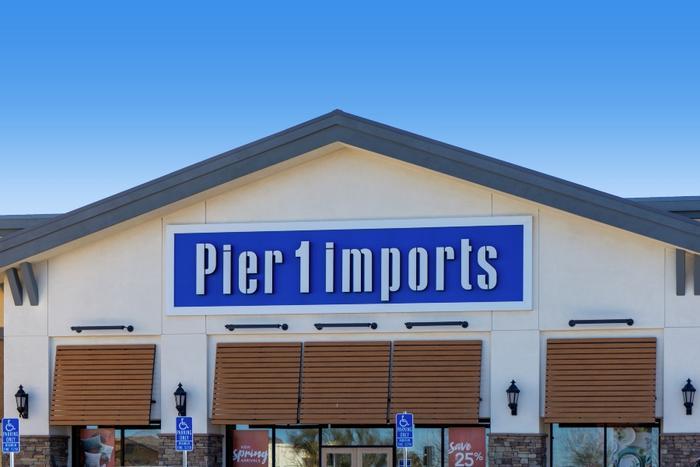 Say goodbye to Pier 1. The Fort Worth, Texas-based omnichannel retailer is closing its doors for good this October. 
The imperiled home goods chain has been losing market share to TJX's HomeGoods chain for years and, financially, is on life support. But the sales blow it suffered during the COVID-19 outbreak was just too much. The company tried finding a buyer through a bankruptcy auction, but taking that route during the pandemic proved to be too much, so the company called it off.
Let the liquidation begin
Pier 1 was given the all-clear to begin liquidation sales at its 500 remaining stores once they can reopen in compliance with COVID-19 guidelines from local government and health officials. At present, the company plans to conclude its liquidation sales by the end of October.
"This is not the outcome we hoped for when we began this process, and we are deeply saddened to move forward with winding down Pier 1," said CEO Robert Riesbeck in a news release.
Pier 1 intends to sell everything it has -- from its famous papasan chairs down to its intellectual property and e-commerce business. 
Who benefits from Pier 1's closure?
ConsumerAffairs reached out to Ethan Chernofsky, vice president of marketing at Placer.ai, who has been tracking the impact of COVID on the retail landscape. From Chernofsky's perch, his analysis of the situation begins at the crossroads of Pier 1 customers' shopping patterns.
A visit to Pier 1 was a strong element of being part of a consumer's 'multi-trip' journey. Placer.ai's data tracking showed that 30 percent of Pier 1 visitors were coming from another retailer directly before visiting a local Pier 1, while over 33 percent visited one immediately after. 
"When attempting to identify the brands with the highest likelihood to gain from these closings … the obvious starting point is Walmart and Target," Chernofsky said. 
After Walmart and Target, the next level of stores primed to take some of Pier 1's lost customers are Home Depot and Lowe's, which both see over 40 percent cross-shopping with Pier 1. "Though the ready-made element of Pier 1 isn't the core focus for these brands, there is still something to be said for a potential uptick in traffic," Chernofsky said. But, it's the next tier that the he thinks is the most interesting -- Home Goods and Bed, Bath & Beyond. 
"[Both] see very high levels of cross-shopping with the average actually weighed down by pandemic closures and shopping patterns in 2020. The result is that both brands have a powerful opportunity to leverage these closures as a means of targeting these audiences to try and fill areas of the gap Pier 1 will leave," he said.