---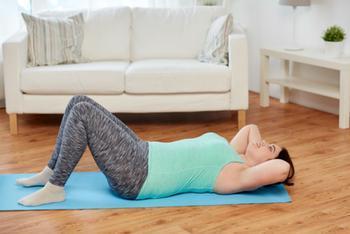 Becoming physically active is a big part of maintaining your health, but one single approach won't necessarily work for everyone. A new study from The Dartmouth Institute for Health Policy and Clinical Practice and Dartmouth's Geisel School of Medicine says that women, especially, have a variety of different factors that keep them from being physically active.
The results indicated that barriers to physical activity for women stretched across several different categories; these barriers included physical, psychological, social, resource, time, and activity reasons. But, interestingly, the researchers found that a higher body mass index (BMI) correlated with much higher levels of physical inactivity. The reason, it seems, is that many women are unable to perform certain physical activities at higher BMI levels.
"What we see is that a woman with a higher BMI can face a double-bind of challenges to being more physically active," said lead author Anna Adachi-Mejia.
Physical barriers to staying active
For the purposes of the study, researchers analyzed women from all across the BMI spectrum – ranging from a normal BMI range (18.5 – 24) to obese class III (40 or greater). Participants were given two separate ways of illustrating the barriers they faced for physical activity.
The first approach allowed participants to answer pre-worded surveys, wherein individuals based their answers off of options that best fit their unique situation. The second approach was open-ended, meaning that participants could write down the barriers they faced in their own words for a greater degree of accuracy.
The answers to these approaches corresponded to the six aforementioned barrier categories – physical, psychological, social, resource, time, and activity. But, when answers from the various BMI ranges were separated, physical impediment stood out as the clear problem for women with higher BMI's. Injury, in particular, stood out as a major physical barrier.
Providing support
The researchers did not anticipate these results before conducting the study, but they do believe that the culture of promoting physical activity will need to adapt to help all women participate.
"I was surprised to hear about how often women wrote about physical impediment as being a barrier to physical activity," said Adachi-Mejia. "In those cases women don't need to hear more messages about their need to be more active. Instead, they need help with working through how to be more active in spite of having impairment."
"I hope that in future interventions we can integrate more physical rehabilitation and/or occupational therapy to help people work towards greater ability to be more active," she concluded.
The full study has been published in the journal Public Health. 
---