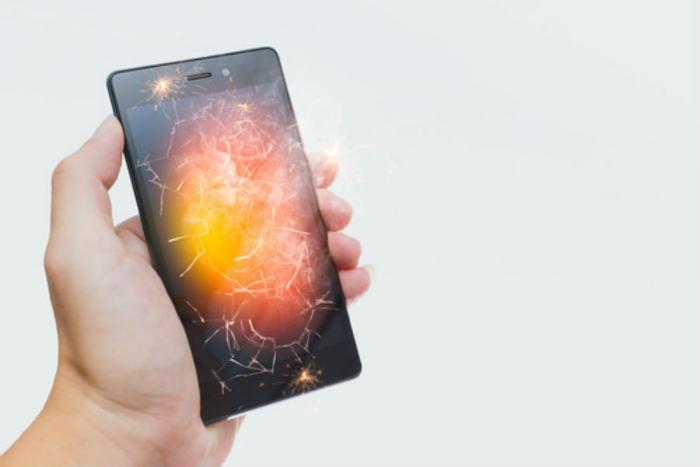 Chances are, your child is never far from their phone. But excessive screen time may not be the only potential risk of allowing kids to stay close to their device at all times.
Firefighters in New Hampshire are warning parents to check the location of their child's phone and tablet chargers, pointing out that allowing kids to sleep with their device on the bed or under a pillow while it's charging could pose a safety hazard.
Can catch fire
In a Facebook post accompanied by a set of photos showing a burned sheet and blanket, firefighters from Newton, New Hampshire wrote:
"The heat generated cannot dissipate and the charger will become hotter and hotter. The likely result is that the pillow/bed will catch fire. This places the child/teen as well as everyone else in the home in great danger."
Research shows that more than half (53%) of children/teens charge their phone or tablet either on their bed or under their pillow, the fire department said. Parents are urged to check where mobile devices are being charged in their home.
Caution required
Cell phones, batteries, and chargers should be handled with care, says the Consumer Product Safety Commission (CPSC).
The group says it has received reports of incidents and injuries involving cell phones, batteries, and chargers in a variety of environments, not just near pillows and bedding.
The Lithium Ion batteries in wireless devices "have a lot of energy in a small package," the group explains, adding that they are "more sensitive to physical stress than alkaline batteries found in toys and flashlights and need to be treated with more care."
Cell phone safety tips
For safety's sake, the CPSC asks that consumers follow some basic safety precautions in their daily use of cell phone batteries:
Do not place the phone in areas that may get hot, such as on or near a cooking surface, cooking appliance, iron, or radiator.

Do not allow a battery out of the phone to come in contact with metal objects, such as coins, keys, or jewelry.

Do not crush, puncture, or put a high degree of pressure on the battery, as this can cause an internal short-circuit, resulting in overheating.

Avoid dropping your cell phone, and don't get your phone or battery wet.

Follow the usage, storage, and charging guidelines found in the user's guide.