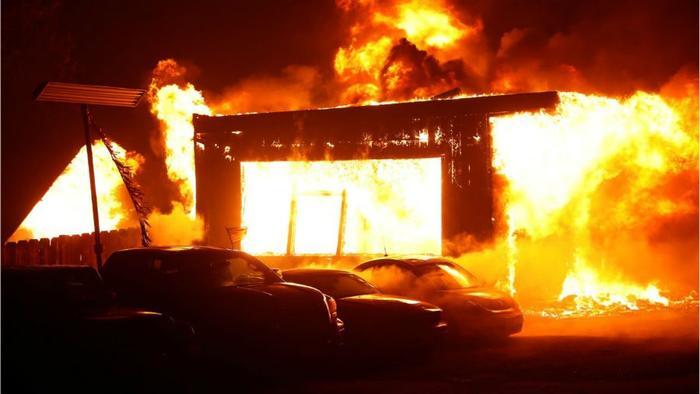 The worst fire in California's history, responsible for destroying the quaint mountain town of Paradise, California and killing at least 63 people, was caused by multiple factors. Northern California suffered record droughts in the past year. The vegetation was then especially dry, making any fire that came into contact more explosive.
While California officials and utility giant PG&E have long warned that the warming climate will make the state more prone to wildfires, the immediate cause of the Camp Fire is still under investigation and an open question.  
But the answer to that question, numerous investors and locals suspect, is PG&E. The utility on November 8 submitted an "electric incident report" to the California Public Utilities Commission to alert it that there was a power failure on a transmission line in Butte County, California.
Fifteen minutes later, the Camp Fire started. An attorney who plans to represent residents says that witnesses saw sparks flying from the transmission lines. The revelations have sent investors fleeing, cutting PG&E's market value in half.
It wouldn't be the first wildfire that PG&E allegedly helped cause. Cal Fire, the state agency charged with investigating and putting out wildfires, said that PG&E was responsible for starting at least 16 fires that contributed to the massive wine country disaster last year. Investigators found numerous instances where trees came into contact PG&E power lines and then caught fire. They said that PG&E is responsible for maintaining its power lines and keeping them a safe distance from trees.
The utility in June told investors it would pay out $2.5 billion to cover fire-related damage. But it now appears that PG&E is trying to pass at least some of those charges down to customers.
Passing on costs
PG&E last month asked energy regulators for permission to raise consumers' rates, the Associated Press reported on Friday. The utility said that the increases were necessary to pay for wildfire-related costs.
The news agency reports that PG&E said that its transmission lines and other equipment pose a higher fire hazard than any other utility.
"The implications of PG&E's exposure to potential liabilities associated with wildfires are dramatically magnified," the filing says. "Overcoming the negative financial impact of any significant damages that might ultimately be attributed to PG&E will require an ongoing commitment of capital from investors."
The request came after Gov. Jerry Brown signed into a law a bill that allows PG&E to use state money to pay for an estimated 200 plus lawsuits it is facing over previous wildfires. The legislation was controversial because it essentially puts taxpayers on the hook should a jury or judge find that PG&E was negligent or otherwise liable.
A spokesman for the utility responded with a statement to the AP that "PG&E's electrical system is not immune from the impact of increases in the frequency and severity of extreme weather."