---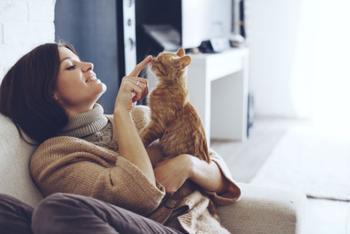 Pet are often considered part of the family, which is why it may not come as a surprise that most pet owners take their pets' needs into account when buying, selling, or renovating their home.
A survey by the National Association of Realtors (NAR) found that 81% of consumers factor in the needs of their furry companion when deciding on their next living situation.
"In 2016, 61 percent of U.S. households either have a pet or plan to get one in the future, so it is important to understand the unique needs and wants of animal owners when it comes to homeownership," said NAR President William E. Brown.
According to the survey, 99% of pet owners said they consider their pet part of the family. And because family members don't leave other family members behind, 89% of respondents said they would not give up their animal because of housing restrictions or limitations.
Animal-related decisions
Four-legged family members also influenced other decisions pertaining to consumers' next living situation. The report found that 12% of pet owners have moved to accommodate their animal and 19% said they would consider moving to accommodate their pet in the future.  
Most realtors agreed that pets play a large role in clients' buying and selling decisions. One-third of realtors surveyed said their pet-owning clients often or very often refused to make an offer on a home because it was not ideal for their pet. Realtors also noted that 61% of buyers find it difficult to locate a rental pet-friendly property or a homeowners association.
When clients are ready to put their home on the market, 67% of realtors said animals have a moderate to major effect on the sale. In fact, two-thirds of realtors advise their pet-owning clients to replace things damaged by an animal, have the home cleaned to get rid of pet odors, and to take the animals out of the house during an open house or showing.
Renovating for pets
Pets may be easy to love, but they're not always easy to live with. Certain types of flooring may not withstand the effects of claws, while active dogs may need a fenced in backyard to meet their daily exercise quota.
For these reasons and others, 52% of respondents said they had completed a dog-related home renovation project. Of those who completed a project specifically for their pet, 23% built a fence around their yard, 12% added a dog door, and 10% installed laminate flooring.
Owners were just as likely as the family pooch to enjoy these renovations. Fencing in a yard and installing laminate flooring were the projects that made homeowners happiest -- both received Joy Scores of 9.4 out of 10.
---