---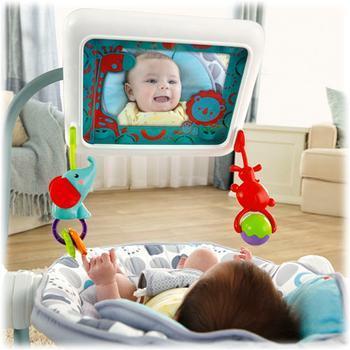 The Campaign for a Commercial-Free Childhood has sent Fisher-Price petitions demanding the company recall an infants' bouncy seat that's equipped with an iPad holder.
"In Campaign for a Commercial-Free Childhood's 13-year history, no petition we've hosted has garnered more signatures — or generated more passion," said CCFC's director Dr. Susan Linn. "People expect better of Fisher-Price and are shocked that the company is selling a product with such a cynical disregard for infants' wellbeing."
The group says the $80 Fisher-Price Newborn-to-Toddler Apptivity Seat for iPad encourages parents to leave their children unattended under the guise of providing them with an educational activity. To date, the group says the petition has been signed by more than 12,000 parents, grandparents, educators, and health professionals.
The seat is described by Fisher-Price as a "grow-with-me seat for baby that's soothing, entertaining and has a touch of technology, too." Like conventional bouncy seats, the Apptivity Seat puts some hanging toys and a mirror --designed to help children develop facial recognitions skills, as well as teach them a sense of self -- within the child's easy reach. But there' s a twist: the Apptivity Seat allows parents to replace that mirror with an iPad.
That's what has parents, educators and pediatricians fuming.
"A child's brain develops rapidly during these first years, and young children learn best by interacting with people, not screens," the American Academy of Pediatricians says on its website. It goes on to caution that studies have shown excessive use of multimedia devices by children can lead to a host of issues, including attention problems, difficulty at school and obesity.
Distancing itself?
CCFC sent the petition amid what it sees as signs that Fisher-Price is distancing itself from the controversial iPad bouncy seat.
It quotes Fisher-Price as saying in a statement that it does not "position the Apptivity Seat, or any of our other infant seats, as educational products for children." CCFC said Fisher-Price also claims that the seat has a timeout feature that "only allows for 10 minutes of activity with our app before requiring a manual reset."
But CCFC says it timed three apps and found that one, "Laugh & Learn Shapes & Color Music show for Baby," ran indefinitely while two others, "Development with Contrast Colors for Baby" and "Soothing Sights & Songs for Baby," timed out at 12.5 minutes and 13.5 minutes respectively.

"It's clear Fisher-Price is attempting damage control, but the best way to protect their brand is do the right thing for babies and families and pull the plug on the iPad bouncy seat," Dr. Linn said.



---