---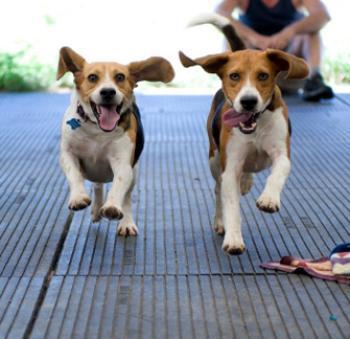 PETA -- People for the Ethical Treatment of Animals-- is the animal rights group that stages spectacular demonstrations aimed at galvanizing opposition to animal cruelty. It opposes wearing fur, condemns all types of cruelty to animals and encourages veganism, a form of vegetarianism that eliminates all animal products. It also operates a large animal shelter at its headquarters in Norfolk, Va.
PETA's in-your-face tactics have made it Public Enemy No. 1 as far as the food industry is concerned, and now the organization's animal shelter is giving its enemies an opportunity to tar PETA with the same brush it uses on restaurants, the fur industry and meat growers.
Something called the Center for Consumer Freedom (CCF), a restaurant industry front group, is hoping to put PETA squarely in the doghouse by publicizing statistics indicating that it killed almost 90 percent of the dogs and cats placed at its shelter last year, a much higher percentage than other shelters in Virginia. CCF says that since 1998, the shelter has euthanized a total of 29,398 pets.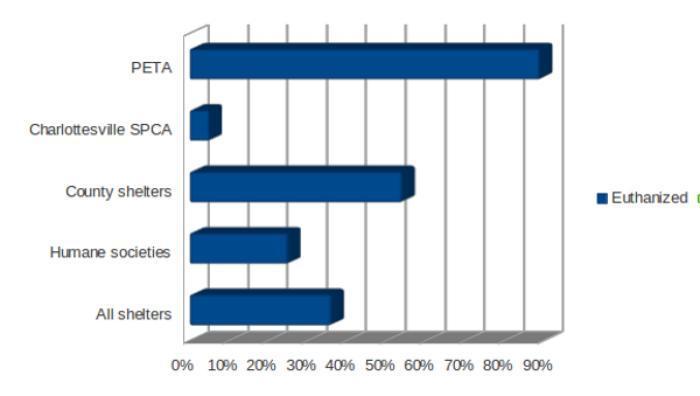 This chart, using official figures from the Virginia Department of Animal and Consumer Services, the state agency that regulates animal shelters, compares figures for all shelters in Virginia with those operated by humane societies, county shelters, the Charlottesville SPCA and PETA.
| | | | | | | | | | |
| --- | --- | --- | --- | --- | --- | --- | --- | --- | --- |
| Virginia | In | Euthanized | '% | Adopted | % | Reclaimed | | Transferred | % |
| All shelters | 37,078 | 13,272 | 35.8% | 11,610 | 31.3% | 2,691 | 7.3% | 6,293 | 17.0% |
| Humane societies | 10,143 | 2,519 | 24.8% | 4,995 | 49.2% | 550 | 5.4% | 742 | 7.3% |
| County shelters | 19,814 | 10,633 | 53.7% | 2,973 | 15.0% | 2,086 | 10.5% | 3,630 | 18.3% |
| Charlottesville SPCA | 3,294 | 167 | 5.1% | 2,552 | 77.5% | 107 | 3.2% | 67 | 2.0% |
| PETA | 1,877 | 1,675 | 89.2% | 23 | 1.2% | 5 | 0.3% | 130 | 6.9% |
"It is a large number, they took in more than 1,800 last year and euthanized 1,600," said Elaine Lidholm, director of communications for the Virginia agency. "If you look at the Richmond SPCA last year, I think they took in over 3,000 and euthanized fewer than a dozen."
But Lidholm noted that the Richmond SPCA is a "no-kill shelter. "They won't take an animal they think is not adoptable but PETA will take anything."
Lidholm noted that her department, like most government agencies, collects and compiles the statistics but does not independently verify them and does not make value judgments about how the shelters are operated.
Who's hypocritical?
The restaurant group says the statistics show that PETA is being hypocritical in its defense of animal rights.
"With a $30 million annual budget, PETA could make an effort to provide for homeless animals -- if it wasn't too busy harassing farmers, diners, and shoppers with media stunts," CCF said in a statement. "PETA can run, but it can't hide from its shameful animal-killing record."
For its part, PETA says it does the best it can for the hard-luck cases it takes in.
"We have a small division that does hands-on work with animals, and most of the animals we take in are society's rejects: aggressive, on death's door, or somehow unadoptable," PETA spokeswoman Jane Dollinger told ConsumerAffairs.
"CCF's goal is to damage PETA by misrepresenting the situation and the number of unwanted and suffering animals PETA euthanizes because of injury, illness, age, aggression, and other problems; because their guardians requested it; or because no good homes exist for them," Dollinger said. "Anyone who is shocked to learn how many animals have to be euthanized annually should ask themselves if they're spaying and neutering their companion animals, adopting from shelters instead of buying from breeders and pet stores, and demanding higher animal care standards in their own communities."
PETA says a peaceful death is sometimes the only answer for worst-case animals.
"We never turn our back on animals who need help, even if the best we can offer them is a peaceful release from an uncaring world. PETA also works every day to prevent animals from ending up abused, homeless, and euthanized in the first place—a fact that the CCF never mentions," the animal-rights group says on its website.
"[T]he statistics that CCF reports don't include the many adoptable animals we have referred to high-traffic open-admission shelters where they will have the best chance of being seen and finding a new home. Those numbers also don't take into account the tens of thousands of animals whose lives we have improved and saved — by providing free spay and neuter surgeries, sturdy doghouses stuffed with straw, nutritious food, and much more."
---