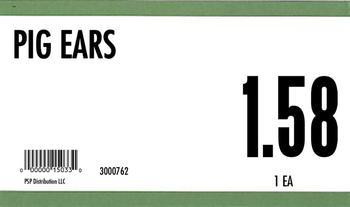 Pet Supplies Plus is recalling bulk pig ear treats following the announcement that the Food and Drug Administration (FDA) and the Centers for Disease Control and Prevention (CDC) are investigating contaminated pig ear treats connected to Salmonella.
While 45 individuals in 13 states have been diagnosed with Salmonella-related illness, none are confirmed to be a result of purchasing pig ears from Pet Supplies Plus.
The recalled products, which are stocked in open bins, were distributed to Pet Supplies Plus stores in Alabama, Arkansas, California. Colorado, Connecticut, Delaware, Florida, Georgia, Iowa, Illinois, Indiana, Kansas, Kentucky, Massachusetts, Maryland, Michigan, Minnesota, Missouri, North Carolina, Nebraska, New Hampshire, New Jersey, New York, Ohio, Oklahoma, Pennsylvania, Rhode Island, South Carolina, Tennessee, Texas, Virginia, Wisconsin and West Virginia.
What to do
Customers who purchased the recalled products should discontinue using and discard them.
Consumers with questions may call (734) 793- 6564 Monday though Friday 9 a.m. - 4 p.m. (EST) excluding holidays.