---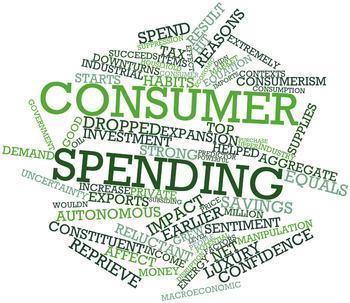 Americans brought home less money during October, but that didn't seem to have much impact on their spending habits.
The government reports personal income dipped 0.1% after posting an increase of 0.5% percent in September. The largest component -- wages and salaries -- was up 0.1% on top of a 0.4% gain. Proprietors' income, on the other hand, fell 1.4% in October due to a decline in farm proprietors' income after farmers received a one-time payment in September for a settlement of a lawsuit against the Department of Agriculture.
Current-dollar disposable personal income (DPI) -- after-tax income -- decreased 0.2% after increasing 0.5% in September. Real DPI, which is income adjusted for taxes and inflation, was down 0.2% in October, giving back some of September's o,4% gain.
Spending on the rise
Real consumer spending -- spending adjusted for price changes -- increased 0.3% in October after inching up just 0.1% a month earlier. Spending on durable goods rose after falling in September.
The spending increase coupled with the decline in incomes pushed the personal saving rate as a percent of DPI down to 4.8% in October from 5.2% in September -- the lowest level since July.
The complete report on income and spending for October can be found on the Commerce Department website,
---