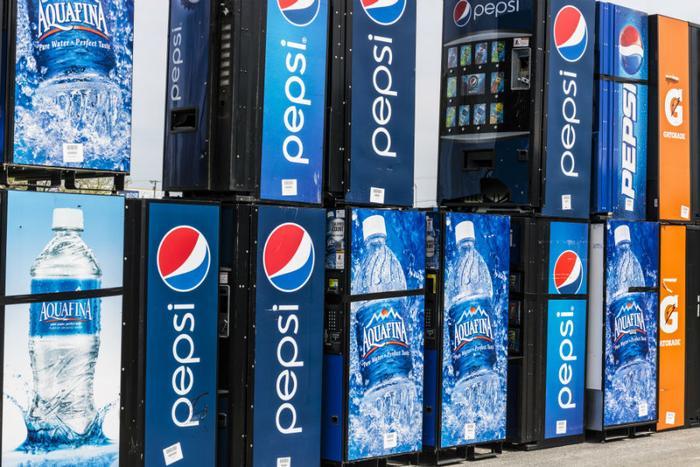 PepsiCo has announced that it will start selling canned water as part of an effort to curb its plastic use. 
Aquafina water, which is owned by Pepsi, will be sold in aluminum cans at locations around the U.S. Pepsi also plans to use 100 percent recycled plastic for its LIFEWTR bottles and switch to using only cans for its Bubly brand sparkling water instead of plastic bottles. 
The changes, which will go into effect in 2020, will eliminate more than 8,000 metric tons of virgin plastic and about 11,000 metric tons of greenhouse gas emissions, according to the company.
"Tackling plastic waste is one of my top priorities and I take this challenge personally," PepsiCo Chairman and CEO Ramon Laguarta said in a statement. "As one of the world's leading food and beverage companies, we recognize the significant role PepsiCo can play in helping to change the way society makes, uses, and disposes of plastics." 
Pepsi said it's aiming to make all of its packaging recyclable, compostable, or biodegradable and use 25 percent recycled plastic in all of its packaging by 2025. 
"We are doing our part to address the issue head on by reducing, recycling and reinventing our packaging to make it more sustainable, and we won't stop until we live in a world where plastics are renewed and reused," Laguarta said. 
Eliminating plastic pollution
Pepsi joins a growing list of companies, restaurants, and retailers that have pledged to reduce their plastic use. Starbucks recently announced that it would begin offering new cold cup lids that do not require a straw. The coffee chain said it's aiming to eliminate single-use plastic straws at all of its locations worldwide by next year. McDonald's is also trying to phase out plastic straws. 
In May, Whole Foods announced that it will stop offering plastic straws at all of its locations in the U.S., as well as in Canada, and the United Kingdom. Pepsi's rival Coca-Cola has announced that it's aiming to recycle 75 percent of the bottles it sells by 2020. 
The initiatives come amid predictions that there will be more plastic than fish in the ocean by 2050 if current trends continue.