---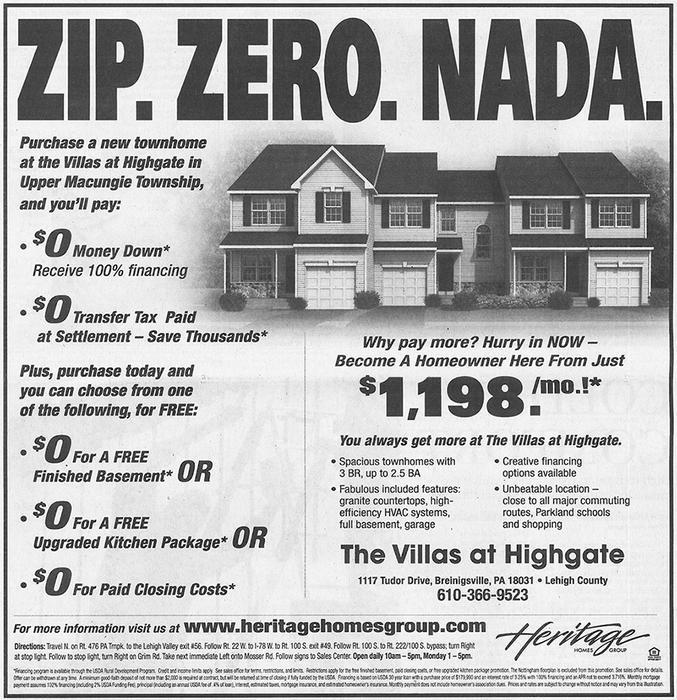 A Pennsylvania-based home builder that offers home financing has settled Federal Trade Commission charges that it deceived consumers by advertising low-cost mortgages while hiding fees and not disclosing vital information about the true cost of the mortgages.
"These defendants tricked consumers into believing they'd found an affordable mortgage with very favorable terms," said Jessica Rich, Director of the FTC's Bureau of Consumer Protection. "The FTC is committed to holding mortgage advertisers accountable."
Using the catch phrase "Zip, Zero, Nada," Heritage Homes Group claimed in ads on websites, and in newspapers, flyers, and direct mail, that consumers could finance their homes without a down payment or closing costs. In fact, they were required to pay a "good faith deposit," settlement costs, and an annual fee, according to the complaint.
The defendants' ads also touted specific monthly payment amounts, such as $1,198 per month, but they failed to disclose that to get such a low monthly payment, consumers would have to obtain financing through the USDA Rural Development Loan Program, which requires them to meet specific credit and income criteria. The defendants also failed to make adequate disclosures about the annual percentage rates consumers would pay for the mortgages.
The complaint alleges that the operation violated the Federal Trade Commission Act; the Mortgage Acts and Practices Advertising Rule (or "MAP" Rule) and Regulation N; and the Truth in Lending Act and Regulation Z.
---