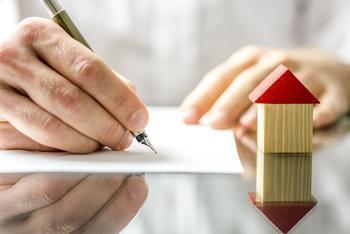 For a second consecutive month, pending home sales have posted a decline with only the West showing positive movement.
The National Association of Realtors reports its Pending Home Sales Index (PHSI), which is based on contract signings, fell 1.3% in April to 109.8 from March's downwardly revised 111.3.
That puts the PHSI 3.3% below a year ago -- the first year-over-year decline since last December and the largest since June 2014.
Weak supply levels and the resulting deterioration of affordability are blamed for the decline.
"Much of the country for the second straight month saw a pullback in pending sales as the rate of new listings continues to lag the quicker pace of homes coming off the market," said NAR Chief Economist Lawrence Yun. "Realtors are indicating that foot traffic is higher than a year ago, but it's obviously not translating to more sales."
Regional breakdown
The PHSI in the Northeast decreased 1.7% to 97.2 in April, and now stands 0.6% below a year ago.
In the Midwest the index plunged 4.7% to 104.4, and is now 6.1% lower than than it was in April 2016.
Pending home sales in the South were off 2.7% for a reading of 125.9 are now 2.3% below the same period a year earlier.
In the one positive report, the index in the West jumped 5.8% to 100.0% but is still down 4.2% from a year ago.
Looking ahead
Yun doesn't have much faith that the low supply levels will go away anytime soon as home building activity has not picked up enough this year and too few homeowners are listing their home for sale.
He projects existing-home sales to be around 5.64 million this year -- up 3.5% from 2016, with the national median existing-home price increasing around 5%.
In 2016, existing sales were up 3.8% and prices rose 5.1%.