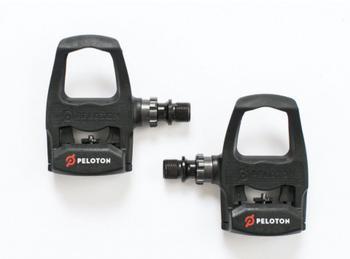 Peloton Interactive of New York, N.Y., is recalling about 54,000 PR70P Clip-In Pedals fitted on Peloton bikes.
The pedals can break during use, causing laceration injuries.
The firm has received 120 consumer reports of pedal breakages, including 16 reports of leg injuries. Five of the injuries required medical care, such as stitches to the lower leg.
The PR70P or first-generation pedal fitted on Peloton bikes were sold between July 2013 and May 2016.
The Peloton logo and the word "PELOTON" are molded into the pedal body. An orange Peloton symbol and white lettering spelling "PELOTON" are printed on the top of the cleat binding.
Pedals are warranted for one year and all remaining PR70P Clip-In pedals in service are out of warranty. Peloton recommends that consumers replace pedals annually.
The pedals, manufactured in Taiwan, were sold online at www.onepeloton.com, through Peloton telephone sales, or through Peloton showrooms nationwide from July 2013, through May 2016. The PR70P pedals were fitted on Peloton bikes that sold for about $2,000.
What to do
Consumers should immediately stop using bikes fitted with PR70P Clip-In pedals. Peloton is notifying all affected consumers directly on how to receive free replacement pedals, along with instructions for self-installation.
Consumers may contact Peloton toll-free (844) 410-0141 from 9 a.m. to 7 p.m. (ET) Monday through Friday, and 9 a.m. to 6:30 p.m. (ET) on weekends.
Affected consumers received a touchscreen notice and an email. Only consumers who have not already replaced their PR70P pedals should contact Peloton.