---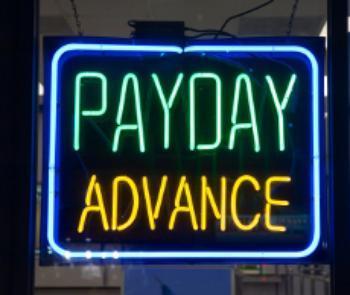 In the last few years a growing number of states have enacted laws making it less profitable for payday lenders to operate within their borders. The rules don't outlaw lending, but they have the same effect.
The state of Minnesota has reached a settlement with one payday lender -- Sure Advance LLC -- it says violated a consumer protection law enacted in 2009. Minnesota Attorney General Lori Swanson says Sure Advance not only charged more interest than the law allowed, it wasn't licensed to do business in the state.
"Unlicensed Internet lenders charge astronomical interest rates, and many consumers who have applied for loans on the Internet have seen their private information end up in the hands of international criminal fraud rings," Swanson said. "People should not take out loans from unlicensed Internet lenders, period."
Fake debt collector scam
The scam to which Swanson refers is the "fake debt collector" scam. Using a call list with financial information about victims, an offshore "boiler room" called thousands of people between 2010 and 2012, claiming they owed money for an unpaid payday loan and threatening them with arrest.
"He knew my bank account information and everything," Laura, of Englewood, Colo., told ConsumerAffairs in 2010. "He stated that if I could pay $786.87 today he would not have me arrested," she said.
Swanson's office, in the course of last year's payday loan investigation, concluded that these scammers were obtaining information, in some cases, through online payday lenders. Earlier this year a California man who worked with bogus debt collectors in India agreed to settle Federal Trade Commission (FTC) charges that he and his companies deceived and threatened consumers into paying debts that were not owed or that the defendants were not authorized to collect.

$760,000 payment
Under its consent decree with Minnesota, Sure Advance, LLC has paid $760,000 into a consumer restitution fund. The proceeds will be utilized to refund Minnesota consumers for unlawful interest charges and fees.
Swanson says the company, based in Delaware, made over 1,200 loans to Minnesota residents. The attorney general filed a lawsuit against Sure Advance, LLC in Hennepin County District Court in September 2011, accusing it of violating state payday loan laws.
Under Minnesota law, for loans between $350 and $1,000, payday lenders cannot charge more than 33 percent annual interest plus a $25 administrative fee. For loans less than $350, Minnesota law caps the fees that may be charged on a sliding scale as follows: $5.50 for loans up to $50; 10 percent of the loan amount plus a $5 fee on loans between $50 and $100; 7 percent of the loan amount (minimum of $10) plus a $5 fee on loans between $100 and $250; and 6 percent of the loan amount (minimum of $17.50) plus a $5 fee on loans between $250 and $350.
While payday lenders don't specifically charge an interest rate, their fees – if converted to an annual percentage rate (APR) can be well over 100 percent. In the case of Sure Advance, Swanson says some of its fees were more than 1,000 percent.
---