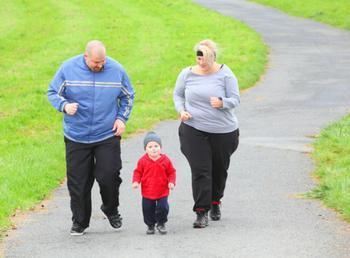 Toddlers born to obese parents may be more likely to experience developmental delays, a new study suggests.
Researchers from the Eunice Kennedy Shriver National Institute of Child Health and Human Development found that maternal obesity is often associated with a delay in fine motor skill development. Paternal obesity was also found to have a unique influence on kids' development.
Children of obese mothers were more likely to fail tests of fine motor skills by age 3, but whether the child's mother, father, or both parents were obese affected which specific developmental problems that surfaced.
While mothers' obesity was linked with a delay in achieving fine-motor skills, fathers' obesity was associated with delays in achieving personal and social skills. When both parents were extremely obese, kids were more likely to fail tests of problem solving ability.
Dad's weight matters
One in 5 pregnant women in the U.S. is overweight or obese. Previous studies have focused on the mothers' pre- and post-pregnancy weight, but study author Edwina Yeung, Ph.D. says the new study suggests that dad's weight also has an influence on child development.
A series of tests, beginning when kids were 4 months old, showed that kids with obese mothers were 70% more likely to fail tests of fine motor skill by age 3 compared to children of normal weight mothers.
Findings also revealed that children of obese fathers were 75% more likely to fail a test designed to gauge personal-social skills, such as how well they were able to relate to and interact with others. Kids with two obese parents were nearly three times more likely to fail the test's problem solving section by age 3.
Possible reason for association
Dr. Yeung, an investigator in NICHD's Division of Intramural Population Health Research, says it's not yet known why parental obesity may increase a child's risk for developmental delay.
Animal studies could help to explain the link, at least in the case of maternal obesity. Yeung and her co-authors cite previous research indicating that an animal's obesity during pregnancy may promote inflammation, which could affect the fetal brain.
The link between paternal obesity and child development is similarly hazy, however some studies suggest that obesity could affect the expression of genes in sperm.
More research needed
Yeung and her colleagues say more studies are needed to confirm the link between parental obesity and developmental delays. Once a link is confirmed, the authors say doctors could begin taking parental weight into account when screening young children for delays.
Obese parents shouldn't necessarily be consumed with concern over this study, says Dr. Ian Miller, a pediatric neurologist and director of neuroinformatics at Nicklaus Children's Hospital in Miami.
"Children of obese parents are not doomed to have developmental problems," Miller told HealthDay, noting that any medical condition that affects the brain can cause developmental problems. He believes that every child who may have a developmental problem should be screened and given help, regardless of his or her parents' weight.
The study has been published online in the journal Pediatrics.