---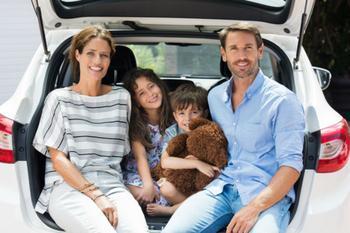 Parents magazine recently teamed up with Edmunds.com to come up with their 10 "Best Family Cars of 2016" list. Together, the parenting and automotive experts evaluated hundreds of cars looking for the most versatile, economical, and family-friendly cars out there.
The family vehicle isn't simply a means of getting from point A to point B, asserts Parents Editor-in-Chief Dana Points. Rather, it's an extension of home for families — "the place where we rehash our days, eat on-the-go meals, and spend quality time together."
For this reason, Points believes it's important that parents feel confident in their car's safety functions. This year's picks, she adds, also highlight features that keep the ride fun and relaxing for everyone.
Without further ado, here is Parents and Edmunds' list of the 10 "Best Family Cars of 2016."
Best family vehicles
The list appears in the July issue of Parents magazine and includes the starting prices of each vehicle.
Best budget vehicle — Kia Soul ($15,800)

Best green car — Chevrolet Volt ($25,720; after $7,500 federal tax credit)

Best hatchback — Mazda 3 ($18,545)

Best small sedan — Honda Civic ($18,640)

Best sedan — Kia Optima ($21,990)

Best wagon — Subaru Outback ($24,995)

Best crossovers — Hyundai Tucson ($22,700) and Nissan Murano ($29,660)

Best minivan — Toyota Sienna ($28,850)

Best SUV — Honda Pilot ($30,145)
---