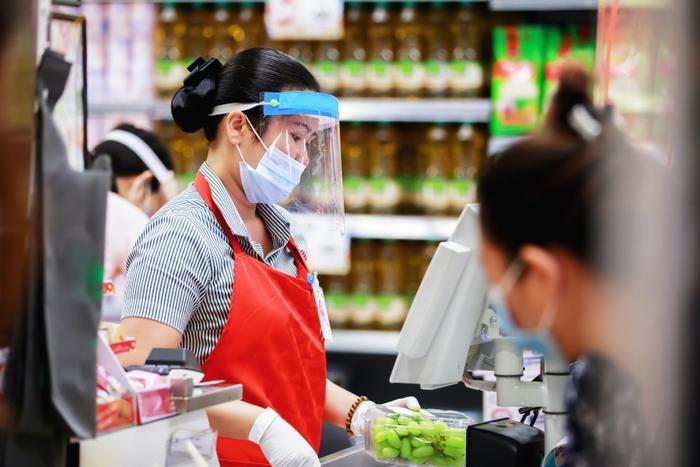 Since the start of the COVID-19 pandemic, many consumers have quit commuting and taken up working from home. While experts predict this new trend could stick for the long term, working from home isn't a reality for all workers. 
According to a new study conducted by researchers from the University of Washington, nearly 110 million Americans, which translates to roughly 75 percent of all employees, can't work from home full-time. The researchers explained that those in this position are at a greater risk of both infection and mental health concerns. 
"This pandemic has really exacerbated existing vulnerabilities in American society, with workers most affected by the pandemic and stay-at-home orders being significantly lower-paid and now also at increased risk for mental health outcomes associated with job insecurity and displacement, in addition to increased risk exposure to COVID-19 if they keep going to work," said researcher Marissa Baker. 
U.S. workforce at risk
The researchers examined data from the Bureau of Labor Statistics to determine how the pandemic has affected different sectors of the job market and put some of the lowest-paid workers at a greater risk. Baker's two most prominent criteria when analyzing the data were differentiating jobs that required many face-to-face interactions and those that required the use of a computer. 
Ultimately, jobs were broken down into four categories, depending on how much or little the jobs required human contact or computer use. For example, jobs in retail require a lot of in-person contact but very little computer use, whereas jobs in tech require minimal in-person contact but a great deal of time on the computer. 
"The workers for whom computer use is not important at work but interactions with the public are some of the lowest-paid workers," Baker explained. "And during the pandemic, they face compounding risks of exposure to COVID-19, job loss, and adverse mental health outcomes associated with job loss." 
Public health concerns
Baker explained that the pandemic has made things even more complicated for those who can't strictly work from home. Low-wage workers are either forced to go into work on a daily basis, risking their health and safety, or they are part of the nearly 20 percent of retail and food service workers who have been laid off during this time, which comes with its own set of worries and anxieties. 
Baker believes that all workers should have some kind of safety net in these instances, as this could help curb the spread of COVID-19 and provide consumers with peace of mind. 
"These results underscore the important role that work plays in public health," said Baker. "Workplace policies and practices enacted during a pandemic event or other public health emergency should aim to establish and maintain secure employment and living wages for all workers and consider both physical and mental health outcomes, even after the emergency subsides."