---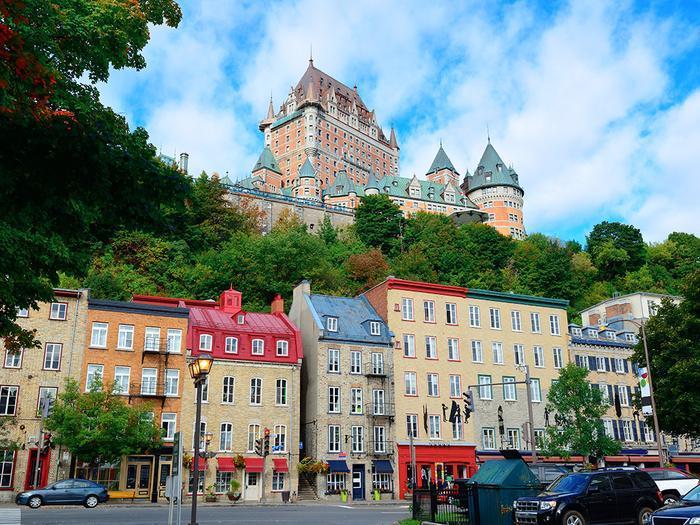 My family has taken many vacations together, but our all-time favorite was a ski trip to Quebec City.
We had considered taking our daughters skiing in Wintergreen, Virginia and the cost was very high for a long weekend. Pondering what to do for winter break, we wondered how expensive it would be to go to Quebec City, where we had spent our honeymoon. Surprisingly, it was significantly less expensive than renting a condo in Wintergreen.
What a magical five days we had. Quebec City is like a slice of Europe with many residents speaking only French. We stayed in a hotel located in the Old City, the only walled city north of Mexico. The hotel didn't even have an elevator. We had one large, narrow room with three beds lined up in a row.
The city was like a fairytale with trees lit with tiny white lights. There was snow on the ground and it continued to snow off and on. What a sight to see them shovel the snow off the rooftops so they wouldn't collapse from the weight of it. Around the corner from our hotel was a creperie with a large crepe machine in the front window. We had breakfast there each morning, savoring different types of crepes and the girls loved the hot chocolate. For dinners, sad to say, the girls preferred the McDonald's across from the hotel while we sampled the local French cuisine.
The girls had ski lessons in French in Stoneham, a short drive from Quebec City. It was bitter cold and they were the only students in their class. For two consecutive days, my husband and I sat it out with hot chocolate while the girls tumbled and skied. Despite the freezing temperatures, we walked all over the old walled city, the best way to take in the sites. We were surprised to see the residents ice skating all over town, somehow managing with the cold.
We wanted to take Jerry home
The highlight of our visit was an open-air carriage ride through the Old City. Our driver carefully tucked us in with a fur blanket to keep us warm. Our horse, Jerry, led us through the cobblestone streets while the girls had grins from ear to ear, distracted from the cold. To this day, we still talk about Jerry. How could we forget him? We took Jerry home with us in our memories. All our clothing from that day, especially our warm coats, were covered in Jerry's hair. Everything had to be dry-cleaned once we were back home.
My favorite memory of the trip was an afternoon after we returned to our hotel room. I got into bed along with my husband to warm up and read. When I looked to my right, both girls were also in bed reading, the four of us with covers pulled up to our chins, all in a row.
Family vacations are so important. The experiences we have stay with us forever. We've taken the girls on many vacations since, but we always reflect on Quebec City. Family memories are priceless.
---