---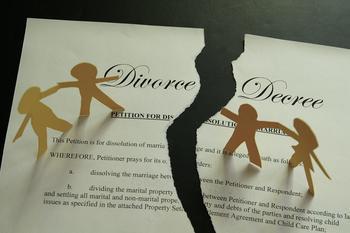 Divorce is both costly and emotionally taxing. Even if both parties agree it's time to part, they will both need support, as research continues to show the long-term effects of divorce and stress.
For example, some studies have shown that divorced individuals are 20 percent more likely than married people to have chronic health conditions, such as heart disease, diabetes, or cancer.
There are a growing number of websites that offer information and support to people going through a break-up. Here are five that might be worth checking out:
DivorceSource.com
DivorceSource.com is a site that offers "what you need to know about divorce" and is one of the more comprehensive sites in the space. One thing that may be particularly helpful is its breakdown of information on a state-by-state basis. After all, divorce laws are not uniform nationwide.
There's how-to information, "divorce tools," articles and checklists. There is also an extensive forum, where users can help one another. The forums air a number of complicated financial issues connected with divorce. One poster, Drownersz, of Columbus, Ohio, said her husband is living in the house but refusing to pay the mortgage.
"What can I do? I do not want to ruin my credit but I am at the point that I want to be free from this marriage and he is not being reasonable," she wrote. "Neither one of us are financially well off and cannot really afford an expensive divorce but he is not being logical. What do I do?"
HelpGuide.org
HelpGuide.org is a self-help website offering support and advice on a number of issues relating to physical and emotional well-being. It's section on coping with divorce offers advice on the emotional aspects of a break-up.
It offers tips for grieving after a divorce, reaching out to others for support, and self-care tips.
ChildrenandDivorce.com
ChildrenandDivorce.com is a site that tackles the tricky issues of children in a divorce.
Run by a pair of family practice physicians, ChildrenandDivorce.com is dedicated to bringing children through the separation of their parents with as little trauma as possible. There are resources for parents, children, healthcare professionals, teachers, mental health professionals, clergy and legal professionals.
The site's authors say children have the right to a lasting relationship with both parents, truthful answers and input in the visitation schedule, among other rights.
Support in a Split
Almost everyone has known a couple that has filed for divorce. When they are close friends or family members, it can be stressful on those not directly involved in the break-up.
Jarratt, of Glen Allen, Va., recently experienced the divorce of a couple with whom he was close friends.
"It's difficult because I know and like both of them," he said. "I've made a point of being as balanced as possible, calling both of them regularly and staying in touch."
SupportinaSplit.com is a blog designed for people in Jarratt's position. It offers advice to friends and family of people going through divorce, suggesting ways they can help.
"Having a support group is essential to help manage the stress of a break-up," says Alicia J. Klat, a licensed attorney and contributor to Support in a Split. "This blog provides an ongoing resource for the friends, families and co-workers of those in the midst of a divorce by providing them with valuable tips for physical, emotional and financial health."
Bloggers include attorneys, divorce counselors and divorce survivors with topics ranging from exercise, dating and updating legal documents.
MedicinePlus
Finally, the divorce section of MedicinePlus, a website operated by the National Institutes of Health (NIH), provides an inexpensive source of information about the physical and emotional toll that divorce can take on a family.
It covers issues ranging from coping with stress to marriage counseling. Much of the information is also available in Spanish.
---