---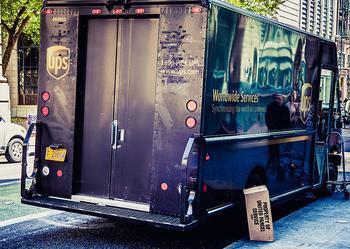 More than half of all shopping now takes place online, according to a new study by UPS. The delivery giant's fifth annual "Pulse of the Online Shopper" study found that 51% of purchases made by its respondents took place online.
"This year's UPS study revealed that 45 percent of online shoppers love the thrill of hunting for and finding great deals, and that physical stores continue to play an important role in that experience. The challenge is how to best engage with shoppers to fulfill their desires," said Teresa Finley, Chief Marketing Officer at UPS. 
The study found that avid online shoppers -- those who make two or more purchases online in a typical three-month period -- are shopping more with their smartphones and demanding a more seamless experience between virtual and physical stores.
It also found that 17 percent of consumers plan to shop less in store, shifting time to their electronic devices.
Social media's influence on purchasing decisions is up nine points (to 34%) in the last year with nearly a quarter of respondents (23%) having made purchases through social media sites.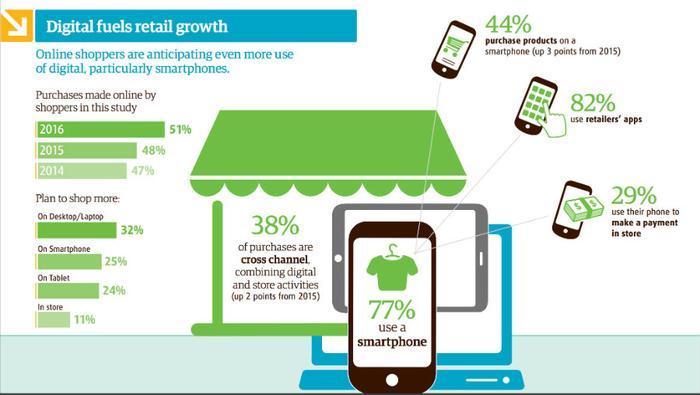 The study found that marketplaces -- huge online shopping centers like Amazon and eBay -- are increasingly where shoppers are starting their search. Thirty-five percent of online shoppers now begin their searches at marketplaces.
Smartphones' role growing
Perhaps most significantly, consumers are shopping online even when they are in stores -- using their smartphones to look up product reviews (29%), read product details (28%), compare prices (27%), and access coupons for in-store redemption (27%) regularly (often or most of the time).
Just 31 percent of shoppers are aware of in-store beacons. A quarter (26%) of smartphone users are receptive to in-store mobile messaging with urban shoppers (37%) and millennials (36%) being even more receptive.  However, more than four in ten smartphone users are neutral toward the idea of in-store mobile messaging.
The complete study is available online. 
---