---

Businesses don't like it when their customers post negative reviews but most don't go as far as a Michigan trinket company called KlearGear.com.
According to a report on KUTV in Salt Lake City, Kleargear imposed a $3,500 charge on a couple who ordered a number of trinkets from the company, which sells novelty items that it thinks will appeal to the technically-inclined. An example is the $14.95 "Can of Whoop Ass," something every electrical engineer needs on his desk, as KlearGear sees it.
According to the KUTV report, Jen Palmer said that her husband ordered a number of items from KlearGear back in 2008. Thirty days went by and the items had not shown up, so the transaction was automatically canceled by PayPal.
Palmer, not satisfied with having her charge canceled, tried to call the company but didn't get through, so she posted a negative review on RipOff Report, saying the company had "incompetent customer service."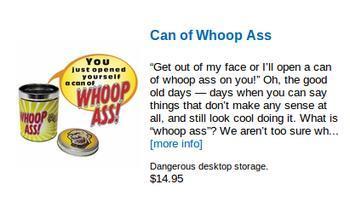 Time went by and, three years later, her husband received an email from KlearGear, claiming he owed $3,500 for violating a clause in the company's terms of service that supposedly prohibited customers from posting negative reviews.
No such clause appears today but according to published reports, the clause formerly said: "In an effort to ensure fair and honest public feedback, and to prevent the pung of libelous content in any form, your acceptance of this sales contract prohibits you from taking any action that negatively impacts KlearGear.com, its reputation, products, services, management or employees." ​
Trying to extract themselves from the fix they found themselves in, the Palmers contacted Ripoff Report, which allegedly tried to shake them down for $2,000 to remove the report. The Palmers declined.
And that would be that, except that KlearGear has apparently besmirched the Palmers' credit rating, claiming that the unpaid $3,500 is a legitimate debt. We tried to call KlearGear.com president Lee Gersten but consistently got a busy signal. Not voice mail. A busy signal. Remember those?
The Palmers say that because of the bad mark on their credit, they've been unable to get a loan for a new car or to fix their home's furance.
Guess they really need that can of Whoop Ass now.
---