---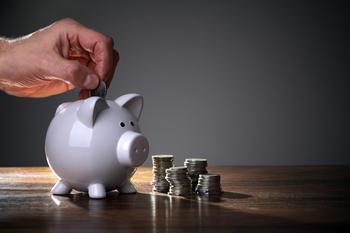 Putting money away for a rainy day appears to be one of those quaint notions of the past, like Sunday dinner with the family or a hot meal on an airline flight. These days, a growing number of people live paycheck to paycheck. An unexpected expense can be catastrophic.
According to the U.S. Commerce Department, in 1970 Americans saved around 10% of their disposable income – disposable incoming being what is left after paying taxes, mortgage, insurance and other fixed expenses. In January 2013 the savings rate was down to 2.2%.
Data compiled by financial website NextAdvisor.com shows the average U.S. household has only $3,800 in savings. More distressing, 25% of households have no savings at all.
Saving money, of course, starts with a budget. You have to track your income and expenses and end up with a positive balance at the end of the budget period. Cutting expenses and increasing income will increase the amount of money that can go into savings.
Where to put your money
But where do you put your savings? Banks now have minimum deposit requirements and a host of fees that have discouraged some from opening savings accounts. The paltry interest paid is not much of an incentive either.
Polina Polishchuk, an editor at NextAdvisor, suggests looking at opening a savings account in an online bank. Unlike a traditional bank, she says online banks are more consumer-friendly.
"That's why we were for online savings accounts," Polishchuk said. "They don't have fees. There's no minimum balance requirement, or requirements for how much money you have to deposit into the account every month. And the interest rates they pay are much higher than regular banks."
They do pay a higher interest rate – though it can be considered high only in comparison to what traditional banks pay. The annual percentage yield (APY) is still under 1%. Still, it beats what the big banks are paying.
"When you choose an online savings account your money, no matter how much you put in there, will go farther if it pays a higher interest rate," Polishchuk said. "And, it doesn't charge a fee."
More valuable than interest
The absence of fees may be more important than the amount of interest you earn on your savings. A $10 fee here and a $20 fee there quickly wipes out any earnings and actually eats into your savings.
Online banks typically make it easier to get started with a savings plan. While some traditional banks require you to open an account with a specific minimum amount, online banks usually have no minimum deposit requirement.
Here are some online banks and what they offer in the way of savings products:
Ally Bank: Formerly GMAC Financial, Ally's savings account has no minimum deposit to open and no monthly maintenance fees. It currently is paying 0.84% APY.
Capital One 360: This online bank, part of ING Direct, advertises "no fees, no minimum" for its savings accounts. It currently pays 0.75% APY.
American Express: The credit card company's online bank features a savings account with "no monthly fees, no minimum balance." It currently pays a competitive 0.85% APY.
USAA Bank: The insurance giant's online bank has a savings account with "no monthly service fees, regardless of your balance." It also features tiered rates, paying higher interest on larger balances. Current savings account rates range from 0.10% to 0.20% APY.
EVantage Bank: Perhaps the best online savings account isn't even a savings account. EVantage Bank's Rewards Checking is a free checking account that currently pays 2.0% APY on balances up to $10,000. All you are required to do is post and clear 10 Evantage Bank Visa CheckCard sales transactions per cycle and receive all statements electronically. As a bonus, out-of-network ATM fees are refunded, up to $25 per cycle.
---