---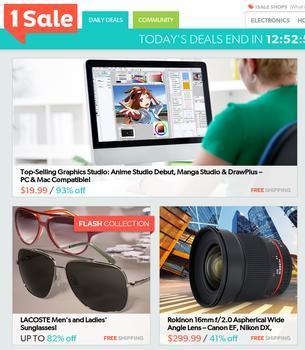 Since this is January 2014, it's probably too late for us to warn you, "If you want to buy presents and receive them in time for Christmas 2013, don't buy them from 1sale.com." But then, the reason we know this is because over the holiday week we got complaints from dozens of customers who learned this the hard way.
1sale did not respond to requests for comment on this story.
The complaints all fall into one of three categories: "They never shipped my stuff," "They shipped my stuff far later than originally promised" or, worst of all, "What they shipped is NOT what I paid for."
Tyler from Iowa kicked off the holiday season on Christmas Eve, when he told us, "I ordered and paid for an item for my boys for Christmas on November 24. I have order confirmation and an email that says they received my payment and would be processing and sending my item right away. It is now December 23rd and I have no product and no customer service. On my account it says my product has shipped and the shipping information is FAKE!!!! The tracking number is not valid."
That same day, Homer in Georgia wrote us to say, "I have to admit I spent hundreds of dollars with them over the years … But no more. Their shipping is always incredibly slow. It took over TWO MONTHS to get some disposable razors (which turned out to be WORTHLESS). But the final straw was when I bought a name brand watch for all of $17.99. It took about 3 weeks to get it. The stem came all the way out the second time I wore it. I asked if I could return but they said too bad, outside of their 21-day return period. Well, how could it not be? I then asked that they please refund to a good customer and there was no response."
A former company?
We also got a rather sardonic Christmas Eve message from Robert in Nevada: "Thanks 1Sale for messing up Christmas. Now I see why you were a former company." (That crack about being a "former company" was presumably a reference to the company's recent name change: 1sale.com used to be 1saleaday.com.)
The day after Christmas, Colette from Pennsylvania told us, "I ordered a product from this site for Christmas and the order has not yet arrived (21 days later). My credit card was charged immediately upon order, yet I have not yet received my product. Attempting to contact the company four separate times resulted in no response aside from an 'auto response' stating that my email was received."
"J" in New Jersey empathized with Colette the next day: "I too ordered something (a very pricey something that was still a bit expensive after discount) for my mother for Christmas on NOVEMBER 29th, only to have to buy her something smaller because this did NOT ARRIVE BEFORE CHRISTMAS! I have emailed them around five times and have received nothing but an automated message!!"
But we also got a slightly different complaint that day, from Sirish in Georgia. Unlike most of our readers, Sirish not only received something (a mattress purportedly made by the Simmons company) in exchange for monies rendered, he only had to wait 10 days for shipping. So what's the problem?
"The cloth of the mattress started splitting at various places after the first day of use, and within three days, the side of the mattress where my wife sleeps (130 lbs) lost the firmness and started creating a dip. There is no Simmons warranty card attached to the mattress - seems to be a counterfeit product. The size is 70x80, not a standard size for any size bed. There was 30-day return policy for the mattress, (no phone support available, phone message says they are closed for holidays). I contacted 1sale support via email at least 4four times after first three days of use, included pictures in the email and mentioned that I wanted to return the mattress, but I got the response once saying a supervisor will look into the matter, but no one contacted me for past 24 days and while I kept emailing constantly during past 24 days there is no response."
No present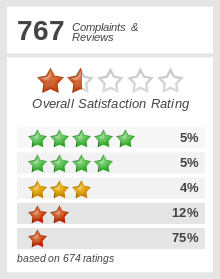 That shoddy mattress is still better than anything Karey from Virginia got. She wrote us on Dec. 27 to say that she ordered her son a Christmas present on Oct. 24 — and her credit card was charged that same day. [This would be an apparent violtaion of the FTC's Mail Order Rule, which requires that credit cards not be charged until an item ships.]
On Nov. 28, she says, she received an email promising that the item would be shipped within a week. But two days after Christmas, she told us: "After emailing them and escalating them on paypal and contacting them through paypal and their website's customer support, I have gotten nowhere and they still have not sent me what I ordered. They did however send me a tracking number for UPS that says that the label has been made and the order will update once UPS has it..... still nothing. ...
"1saleaday has ruined a little boy's Christmas! You should be ashamed!"
Tami from California wrote us on Dec. 28 with a trifecta of complaints: late shipping, inaccurate shipping dates AND substandard product, all wrapped up in a single order. "I ordered three Macbook Pro computers for my daughters for Christmas 2013, understanding they were refurbished from the company." Good idea; factory-refurbished items can be an excellent way to save money on pricey electronics without having to sacrifice quality. So what's the problem?
"I was sent a fraudulent shipping notice stating they were shipped on Dec. 10, and would be received no later than Dec. 19. They were not even shipped until Dec. 20. These were [my daughters'] main gifts for Christmas and were not received until Dec. 27."
Bad enough. Even worse is what the girls found when they finally opened their presents: "I don't believe these are factory refurbished. There is NO paperwork nor a warranty in the box. These computers and chargers are FILTHY and SCRATCHED. No idea where they found these but there is NO way these are Apple refurbished. They were wrapped in plastic wrap. That's it. They are going back after I call the credit card company to demand a refund."
Toy story
Meanwhile, in South Carolina, another little girl had an equally disappointing Christmas thanks to 1sale. Everett wrote us on Dec. 29 to say "I purchased a toy on November 29 to be a present for my daughter.... it still has not even shipped. My card was charged immediately and all email attempts to them have went unanswered. Things happen, but refusing to even respond to correspondence is unacceptable. I would advise anyone to steer clear of this company. I have opened a dispute with Paypal in hopes that maybe they can at least get a response."
That same day, Ron in Ohio told us about his order from 1sale: "I placed an order on Dec.1 in the amount of $94.96 for 2 pairs of sunglasses (Nike and Nicole Miller), a radar detector (Early Warning), and a pair of earrings (Black Spinel studs). When the package arrived, one pair of sunglasses was missing, the radar detector was missing, and the wrong pair of earrings was shipped. In addition, a pair of sunglasses (a different pair of Nicole Millers) that were not ordered shipped, but they were shipped in pieces! The only item that correctly shipped and was not broken was one pair of sunglasses (Nicole Miller). I have sent several emails to customer support and have not received a reply or reconciliation of their mistakes."
Brendan in New Jersey had no better luck buying sunglasses. He told us on Dec. 30 that "on November 19 I placed a $100 order for three pairs of sunglasses. It is now the day before New Year's 2014 and not only have the sunglasses not shipped (despite the fact that they were paid for 42 days ago), but no one from support will return any of the HUNDREDS (yes) of emails I've sent requesting either an explanation or a refund."
No tables
Dec. 30 is also the day Julie from Michigan complained that she still had not received the four Hisense tables she ordered (and paid for) on Nov. 15.
On New Year's Eve we got two more complaints from people who said the items they ordered (and paid for!) long before Christmas still had not arrived. Brian from Tennessee told us that when he ordered and paid for some items, three weeks passed without any word from the company. So he tried to do something about it: "I emailed support and got no response from them. I told them I wanted to cancel my order, I hear nothing. Then they send an email stating they are slow because they are revamping their site. Luckily, I paid with Paypal, I opened 3 claims. I guess that got their attention. I got a shipping statement for the gloves, but it says they may not be shipped out until 72 hrs later... I still have not gotten any gloves... A few days later, I get an email from Paypal that my money has been returned to me for the DVD players. I guess they were not going to ship."
Kristi in Ohio told a shorter but similar story: ordered and paid for two items, on Nov. 27 and Dec. 2, intended them to be Christmas presents but as of Dec. 31 "I still have not received these items. I have contacted the company by email 4 times only to get an automated email saying someone would contact me in 2-3 business days. Guess what, no contact. I have finally contacted Paypal and filed a dispute."
New Year's Day was remarkable — not a single 1sale.com complaint. But two new ones came in the very next day: Sherry from Pennsylvania said, "I ordered a vacuum cleaner on Dec. 16 and I never received it. I will be filing a complaint with my bank."
Andrew in Kentucky ordered some children's toys on Dec. 2, intending to give them as Christmas presents. You can guess what happened (or didn't happen) next: "I emailed them on 12/16 to ask about the status of my order. 3 days later, I received a reply that shipping had been delayed and it would be another 1-2 weeks. I emailed them back on 12/19, asking they cancel the order since there was now no way I would receive it in time for Christmas. Four days later, I received the following response: 'We have recently upgraded our systems and expanded our shipping capabilities, enabling us to deliver orders faster. Along the way, we have had some technical issues that have caused delays in processing orders. As a result, we have seen some delays in shipping out orders. We sincerely apologize for this inconvenience and expect to have your order shipped within the next few days.'
"No mention of it being canceled or receiving a refund, just claiming that it would ship in the next few days. It's now been 10 days since getting that email, and still nothing. No shipment, no refund, nothing. I have sent another email today demanding a refund, and told them if it isn't refunded back to me by Monday, Jan. 6, I will file a claim with my bank."
What to do
It's obviously too late to get those Christmas presents on time. But there are things consumers can do when they are charged for merchandise before it is sent. The most obvious is to contact the seller and cite the FTC's Mail Order Rule. Politely state that you will file a complaint with the FTC if your card is not immediately credited.
Don't accept any assurances about the order being filled in the near future. Cite the FTC rule and insist that the order be canceled and the charge reversed. Any business that violates the Mail Order Rule is not worth of your patronage.
The second thing to do is to contact the credit card company and ask that the charge be reversed. Again, cite the FTC Mail Order Rule.
Finally, do what the consumers quoted above did -- complain loudly to ConsumerAffairs, other peer review sites and the Federal Trade Commission using its online complaint form.
---