---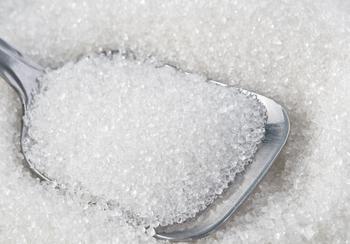 If you're trying to lose weight or keep from gaining any, eating actual sugar might be better than making do with low-calorie artificial sweeteners.
So says Yale University professor Ivan de Araulo, in a press release published on Sept. 22. De Araulo was lead researcher of a study which seems to indicate that your brain is much harder to fool than your tongue—however sweet an artificial sugar-free might taste, it won't satisfy your brain's food-craving center as effectively as genuine sugar.
With all the "sugar makes you fat" and "beware diabetes" warning stories you see in the news, sometimes it's easy to forget that there's a valid biological reason humans evolved to crave sugar: it's a concentrated source of food energy. Sugar isn't inherently bad for your health; excessive amounts of sugar is.
Fewer calories
The logic behind using artificial sweeteners in lieu of sugar is that the fake stuff has fewer calories than sucrose or fructose; thus, the weight-conscious person can satisfy their craving for sweets while consuming far less calories.
The problem, as suggested by de Araulo's study (among others), is that artificial sweeteners might not satisfy that craving after all. As de Araulo wrote in his press release, "The study identified a specific physiological brain signal that is critical for determining choice between sugars and sweeteners. This signal regulates dopamine levels – a chemical necessary for reward signalling in the brain – and only arises when sugar is broken down into a form where it is usable as fuel for cells of the body to function."
In other words: when you have a sugar craving, what eventually satisfies that craving is not the sensation of sweetness on your tongue, but the presence of dopamine in your brain. And, regardless of what sweet flavors stimulate your taste buds, your brain won't generate that dopamine unless it gets some genuine sugar to work with.
Yale and de Araulo are far from the first researchers to suggest that low-calorie sweeteners might paradoxically result in weight gain caused by increased food cravings; as early as 2008, we noted that
"Psychologists at Purdue University's Ingestive Behavior Research Center reported that, compared with rats that ate yogurt sweetened with sugar, those given yogurt sweetened with zero-calorie saccharin later consumed more calories, gained more weight, put on more body fat, and didn't make up for it by cutting back later.

"Authors Susan Swithers, PhD, and Terry Davidson, PhD, theorize that by breaking the connection between a sweet sensation and high-calorie food, the use of saccharin changes the body's ability to regulate intake."
Five years later, de Araulo and his team made the similar observation that "humans frequently ingesting low-calorie sweet products in a state of hunger or exhaustion may be more likely to 'relapse' and choose high calorie alternatives in the future."
The solution, according to de Araulo, might not be to cut out the use of artificial sweetener altogether, but to combine them with actual sugar in amounts sufficient to satisfy the brain's craving for it. "The results suggest that a 'happy medium' could be a solution; combining sweeteners with minimal amounts of sugar so that energy metabolism doesn't drop, while caloric intake is kept to a minimum."
---