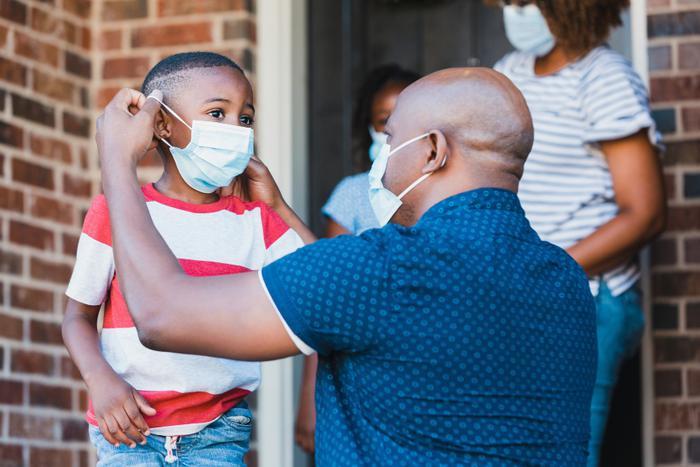 The COVID-19 pandemic continues to rage across the U.S., and individual states and agencies are continuing to provide consumers with guidance to keep them safe from the coronavirus. 
This month, the World Health Organization (WHO) released guidance that covers questions consumers might have about mask requirements for children and young adults. The agency says older children should wear a mask to protect themselves and curb the spread of germs to others in most cases. 
Of course, there are some caveats to the guidance based on age and other health conditions -- and the organization says that consumers should always defer to local guidelines above all else. That being said, the WHO advises the following when it comes to children and mask-wearing:
Mask-wearing by age and health condition
The WHO recommends that children aged 12 and over should wear masks under the same conditions that adults do. However, it says children aged 5 or younger should not be required to wear one because of safety concerns and their general lack of ability to use a mask with only minimal assistance
For children aged 6 to 11, the organization says caregivers should consider the following:
Whether there is widespread transmission in the area where the child resides;

The ability of the child to safely and appropriately use a mask;

Access to masks, as well as laundering and replacement of masks in certain settings (such as schools and childcare services);

Adequate adult supervision and instructions to the child on how to put on, take off, and safely wear masks;

The potential impact of wearing a mask on learning and psychosocial development, in consultation with teachers, parents/caregivers, and/or medical providers; and

Specific settings and interactions the child has with other people who are at high risk of developing a serious illness, such as the elderly and those with other underlying health conditions.
The WHO says children with developmental disabilities, disorders, or other specific health conditions should not be required to wear a mask. However, it says that each child should be judged on a case-by-case basis to see if they can tolerate wearing a mask.
Types of masks children should wear
The WHO says that non-medical or fabric masks are suitable for children who are in good health, but caregivers need to ensure that the mask is an appropriate size so that it can cover the nose, mouth, and chin. 
For children who have underlying health conditions or are at higher risk of contracting COVID-19, a medical mask is recommended to help control the spread of germs. Face shields may also be a good alternative for children with speech issues, but the organization notes that these do not provide the same level of protection. 
Caregivers who elect to have their child use a face shield should be aware of potential hazards and ensure that it covers the entire face, wraps around the sides of the face, and extends below the chin. 
Where masks should be worn
The WHO advises that children should wear a medical mask at home if they show any symptoms of COVID-19 or if there is another sick person in the house. Wearing a mask in areas that have a higher risk of transmission, like schools, may also be advisable depending on local guidelines. 
However, the organization says that children should not wear masks when playing sports or doing other physical activities because it may compromise their ability to breathe normally. Organizers of these activities should take other measures like social distancing and limiting the number of children in a gathering to keep children safe.