---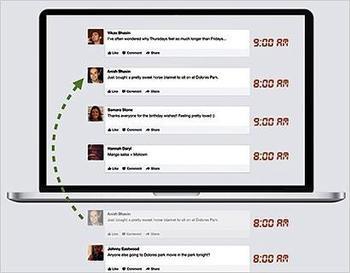 It used to be said that news was a highly perishable commodity and that yesterday's news was about as useful as, well, any number of useless things.
But that's analog thinking. If you want to stay on top today, you have to think digitally -- and sometimes that means taking old news and plopping it down on top of the new news.
At least that's how Facebook sees it, or at least how it explains the latest changes in its so-called news feed, which is sort of Facebook's front page.
Through a tweak to the news feed ranking algorithm, "organic stories that people did not scroll down far enough to see can reappear near the top of News Feed if the stories are still getting lots of likes and comments," Facebook said in its new News Feed FYI blog post, a feature that is supposed to at least partly demystify the news feed.
In short, updates missed initially get bumped back up in the feed to help boost overall engagement. So if you didn't like something Tuesday, maybe you'll like it Wednesday, seems to be the thinking.
And maybe it's true.
Facebook says its tests show that the change resulted in a 5% increase in the number of likes, comments, and shares on the organic posts people saw from friends, and an 8% increase across the same metrics from "brand pages" -- those from companies rather than just plain old people -- on the site. Where people previously read 57% of updates, on average, the ranking change has led to 70% of updates being read, the blog said.
"The data suggests that this update does a better job of showing people the stories they want to see, even if they missed them the first time. For Page owners, this means their most popular organic Page posts have a higher chance of being shown to more people, even if they're more than a few hours old," according to the post by Facebook Engineering Director Lars Backstrom.
Backstrom said there are about 1,500 updates the average Facebook user could look at had he but world enough and time.
So this is all supposed to make our lives better? No, it's supposed to make advertisers' lives better, as we understand it. On a recent conference call with analysts, CEO Mark Zuckerberg said about one in five of the posts people see in their news feeds now are ads.
Zuckerberg said Facebook will "invest more on improving the quality of news feed ads by increasing the number of marketers and overall demand in the bidding process for ad placement."
More ads, more often, in other words.
---