---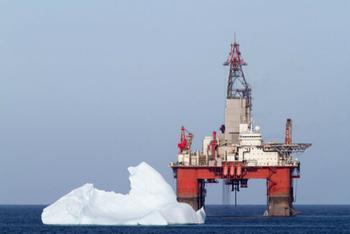 Earlier this month, Governor Jerry Brown of California penned a letter to President Obama asking him to step up measures to protect the West Coast from offshore drilling. Although the POTUS had introduced a measure that would ban the practice off the coast of California, Oregon, and Washington until 2022, Brown hoped that Obama would make the ban permanent to reduce reliance on fossil fuels and preserve the coastline.
While that particular topic has not yet been broached, Obama did take steps to reduce offshore drilling – but on the other side of the country. Acting jointly in a partnership with Canada, Obama has indefinitely blocked offshore drilling in 31 Atlantic canyons, according to NPR. The same action was taken in the U.S. Arctic waters in the Chukchi and Beaufort Seas, and Canada is reportedly doing the same for all Arctic Canadian waters.
"Today, President Obama and Prime Minister Trudeau are proud to launch actions ensuring a strong, sustainable and viable Arctic economy and ecosystem, with low-impact shipping, science based management of marine resources, and free from the future risks of offshore oil and gas activity," a White House press release states.
"Permanent" ban?
Obama was able to push through the action by citing a 1953 law, called the Outer Continental Shelf Lands Act, that empowers the president to "withdraw U.S. waters from future oil and gas leasing," according to Bloomberg. The total area affected by the mandate includes 3.8 million acres in the Atlantic and a combined 115 million acres in the Arctic.
Environmentalists have applauded the move, saying that the measure will help protect coastal residents in both the U.S. and Canada. However, members of the oil and gas industry are less than pleased with the decision and say that the permanency of the ban is a fiction.
"Blocking offshore exploration would weaken our national security, destroy good-paying jobs and could make energy less affordable for consumers. Fortunately, there is no such thing as a permanent ban, and we look forward to working with the new administration on fulfilling the will of American voters on energy production," said Erik Milito of the American Petroleum Institute.
Moving away from fossil fuels
While a Republican-held Congress and the new administration of President-elect Trump could prove detrimental to the ban in the long-run, detractors say that the statute that Obama cited is not constructed for a reversal by the president. That means that untangling the move could potentially take years to make its way through the courts.
"These actions, and Canada's parallel actions, protect a sensitive and unique ecosystem that is unlike any other region on earth. They reflect the scientific assessment that, even with the high safety standards that both our countries have put in place, the risks of an oil spill in this region are significant and our ability to clean up from a spill in the region's harsh conditions is limited," the White House said in a statement.
"By contrast, it would take decades to fully develop the production infrastructure necessary for any large scale oil and gas leasing production in the region – at a time when we need to continue to move decisively away from fossil fuels." 
---