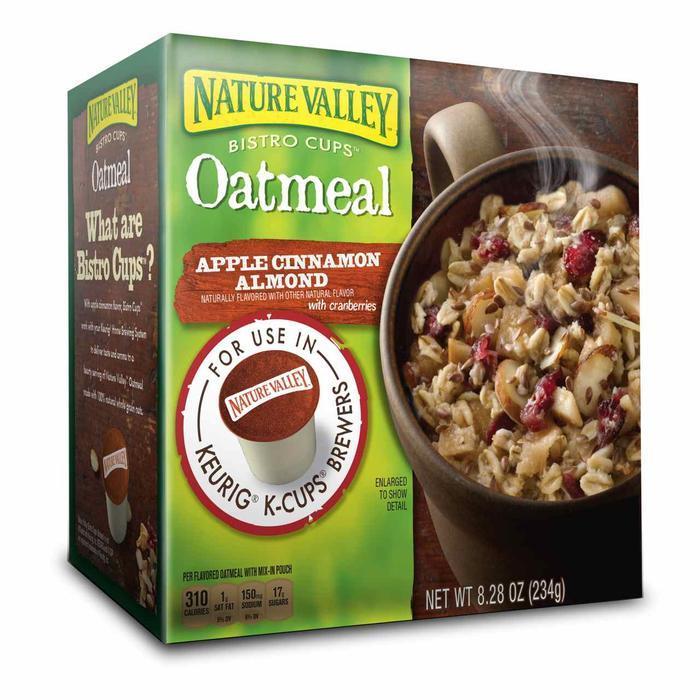 Is there anything you can't make in a Keurig? As far as we know, you still can't make lasagna but, besides coffee, tea and hot chocolate, the list of menu items keeps growing. Campbell's is making a line of soup for the Keurig, and Coca-Cola says it's working on soft drinks that would be produced in a cold-water Keurig. 
And now the latest: oatmeal.
General Mills, lately reviled for its short-lived you-can't-sue-us policy, says it is brewing up a batch of Nature Valley oatmeal that you can heat up in your nearest Keurig machine.
Is this really necessary? You can already brew up a batch of oatmeal by adding hot water to the contents of a single-serve envelope. How much easier can it get?
General Mills thinks it can get a lot easier. But, as it explains in this video, making oatmeal in a Keurig won't be quite as simple as making coffee:
The company says that consumers are already using the Keurig to heat water for their instant oatmeal, so it thinks Nature Valley Bistro Cups Oatmeal will make the process a little simpler.
Maybe so but the K-cup version will include a packet of oatmeal, another packet of nuts and fruit and a flavor capsule that is mixed with the oats when hot water filters through the machine. Is that really so simple? We'll see, I guess.
General Mills says large packages of Bistro Cups will go on sale this week on Amazon.com, with smaller packages arriving on supermarket shelves in the fall.